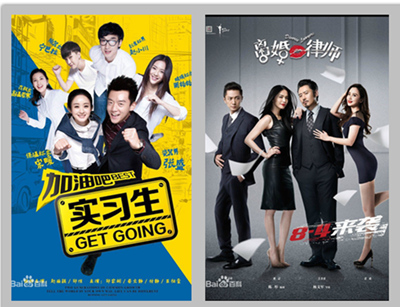 Poster of "Best Get Going" and "Divorce Lawyers" . [baike.sogou.com]
With the development of the culture industry in recent years in China, women's writing today represents two distinctive phenomena: firstly, women's works are produced in a great quantity under the background of new media; secondly, films and dramas adapted from female writers, or penned by female screenwriters, are frequently bringing in huge numbers of viewers at the cinema or on TV. Together, these trends have created a special cultural and literary impact in the country's society. Women's writings and the subsequent achievements by women authors, have led to the sector becoming one of the fastest growing parts of its art and literature industry.
Women's online-published literature and the creations of female screenwriters burst into bloom in today's connected world. They would seem to be two different things, but actually, they have some close connections. In particular, both of these two forms of writing have found a new point of coherence between literalization and marketization. Based on the law of commercial profit, these works take into account the public's consumption of mass entertainment, occupying the reading and viewing markets that predominantly focus on the young audiences, and possess a great potential for marketing and development.
Women's Writings and Subsequent On-screen Adaptations
With the rise of online-published literature, women have become the core creators of such works. Online media has provided an unprecedented opportunity for women to express themselves freely. Although some writers, like Nanpai Sanshu, Jiang Nan, and Tianxia Bachang are the most influential representatives of their male peers, earning them the highest royalties in cyberspace, over 80 percent of online-published writers still are female. It is women who insist on writing in the context of the high fallout rates. Those women, with great enthusiasm, unremitting spirits and delicate emotions, are devoted to their efforts. The rise and growth of female writers today are changing with the development of Chinese literature.
Women's online-published writings, as a newly-developing power in literature, cannot be underestimated; in particular, novels related to love, time travel, colleges, and city life are commonly taken up by female writers. Their productive and high-speed writings have created hundreds of millions of hits on the internet; in the meantime, their works are also favored by the traditional press and have become new favorites in the consumer book markets with a bigger circulation than traditional literature publications. In addition, some female writers, who possess a large number of fans, normally publish the same works in several editions, and their works often rank highly in sales lists. Writer and producer Tong Hua has published 11 works; her novels "Startling by Each Step" and "The Song of Desert" were both published in two volumes and "Yunge from the Desert" was a trilogy. Another famous writer and producer Feiwosicun has published 21 books. Writer Xin Yiwu has published eight books. It is worth mentioning that once a new title comes out, the copyright of the film and television adaption will often be bought and then enters into the next production chain.
On the other hand, women's online-published writings also promote the prosperity of female literary websites as well. These websites not only enroll and sign contracts with writers, but also set up VIP reading rules, and carry out paid contribution and reading schemes. The above moves have completely secured the market-oriented operation of writers; in the meantime, they have become an indispensable part of the contemporary culture industry chain.
With more works being adapted to the big screen, women's online-published writings have become major sources of film and television productions. Like, "Go Lala Go!", "Under the Hawthorn Tree" and "Naked Wedding", all of them have attracted a great amount of audience attention. Furthermore, female scriptwriters also occupy a dominant position in today's industry, especially for their contribution to dramas and romance, such as "Dwelling Narrowness", "Divorce Lawyers" and "Best Get Going".
New Cultural Industry Chain under New Media Mechanism
Women's writings today have formed a new cultural industry chain, that is – A high-click Internet novel is normally adapted into a film and television drama, and the hit drama will promote the printing book into a best-selling one, or it will transform into a play, radio drama, animation, games and other various art styles. This new cultural industry chain has created a lot of miracles, except an ultra-high online click rates, millions of copies of bestsellers, top audience ratings, huge box-office income; it also brings additional benefits, such as the same clothes or living appliances in the drama sell well. In other words, a series of new artistic and economic values have been created in different media conversion process.
At the same time, the IPR (Intellectual Property Right) brings about huge profit space and investment temptation. It is not only a sale of copyright to the original works, but also can be seen as a contract of the patent rights to ideas, thoughts, materials, and other items.
As a matter of fact, women's writings under new media mechanism have become an immeasurable potential part in the development of the cultural industry chain, holding a central position in the construction of new industry chain. Considering the follow-up development of women's writings, these still need people to explore and solve in the future.
(Source: China Women's News/Translated and edited by Women of China)