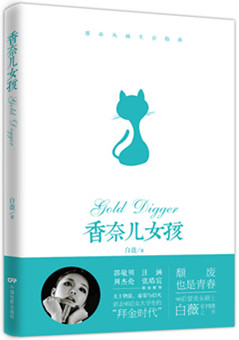 The cover of book "Gold Digger" [Women of China/Yao Yao]
Young Chinese author Bai Wei released her new book,"Gold Digger," which tells the story of four female college students each enslaved by their dreams of becoming wealthy, in Beijing on June 27.
In the novel, the four heroines share a dormitory at one of Beijing's biggest universities. With an eye on their upcoming graduation they worry for their short-term future, but still rush headlong into a pursuit of luxury and frivolous lifestyles.
"They are keen on Chanel and enjoy elegant dates in high-end, Western restaurants. They sell their bodies and souls for money and are eventually imprisoned by their financial pursuits," said Bai.
The female author compared the four young undergrads with French couturier Coco Chanel (1883–1971), who grew up in an ordinary family and managed to set up a fashion empire through her own graft.
"The novel is kind of tragic. As a synonym for materiality, Chanel can burn down the youthful vigor of the fallen but can also light up the life of the fighter," added Bai.
The book actually took several years to write, during which period Bai—who studied for her Master's Degree in the University of Southern California, the United States—walked away from superior job opportunities abroad to return to China.
"I grew up in a better-off family and came into contact with various wealthy people. Over time, I had some ideas and wanted to record these stories. In this way, 'Gold Digger' came into being," said the writer. "I'm also a person of contradictory qualities and often get caught in dilemmas between money and emotion."
"In the future, I will continue with my writing to chronicle those stories around me," Bai added.
Young Chinese author Bai Wei releases her new book"Gold Digger" in Beijing on June 27. [Women of China/Yao Yao]
Young Chinese author Bai Wei (R) releases her new book"Gold Digger" in Beijing on June 27. [Women of China/Yao Yao]