The opening of this year's Bookworm Literary Festival draws a big crowd in Beijing on March 13, 2015. [China Daily/Xing Yi]
The coming weeks are a feast for literature lovers in China as the annual Bookworm Literary Festival is held in eight cities across the country through March 29.
More than 110 writers from 28 countries have been invited to participate in around 300 events, such as book talks, panel discussions and workshops ranging from literature to art and environment.
The festival kicked off in The Bookworm bookstore in Beijing on March 13.
Five authors, including Chinese writer Sheng Keyi, Australian writer Linda Jaivin and director of creative writing program at City University of Hong Kong Xu Xi, shared their journeys in writing and storytelling.
"There are many writers who write fiction, nonfiction, poetry, screenplay and comedy joining the festival. So we don't stick to one theme," says Peter Goff, managing director of The Bookworm.
"But most of the events are about literature, ideas and communications. It's like a mixed salad bowl."
One of the most anticipated authors is Victoria Hislop, the British best-selling author of The Island, which has sold more than 1 million copies in its Chinese edition. She will come to Beijing on March 21 and talk about her fourth and most recent novel, The Sunrise.
Willis Barnstone, the 87-year-old American poet and translator who lived in China during the "cultural revolution" (1966-76) and translated a collection of poems by Mao Zedong, will speak on March 24.
There are also several Chinese faces in the festival.
Guo Xiaolu, author of A Concise Chinese-English Dictionary for Lovers and a filmmaker who currently lives in London, and Chinese-American author Karen Ma will discuss the eternal topic for expatriate writers-writing across cultures-on March 21.
On March 26, He Jiahong, a law professor at Renmin University of China and acclaimed crime novelist, will discuss his second book, Black Holes, which was been published in English by Penguin Books last year.
"We hope to become the bridge between the international writing world and China. We bring writers here to show them China and attract Chinese people here to meet international writers," says Goff.
"When we first started the festival, all the events were in English. But this year a quarter of the events are bilingual."
The annual festival was first launched in 2007, and has gradually gained recognition as more famous writers at home and abroad join the celebration each year, such as China's top novelist Yan Lianke and France's Prix Goncourt prizewinner Tahar Ben Jelloun.
The festival isn't restricted to literature: There are discussions on environmental issues, reflections on technology, documentary and other film screenings and stand-up comedy performances.
Although many of the events will be held in Beijing, others will be organized in Chengdu, capital of Sichuan province, and Suzhou in Jiangsu province, where The Bookworm has branches.
Events in Shanghai, Guangzhou in Guangdong province and Ningbo in Zhejiang province are being held in cooperation with consulates and local universities.
Meanwhile, the Capital Literary Festival, which in previous years has been hosted by the M Restaurant Group in Beijing at the same time as the Bookworm event, has been pushed back to the fall of 2015. The group's annual literary series in Shanghai is also held in November.
Founded in 2002, The Bookworm cafe and bookstore in the capital's Sanlitun area has become a popular gathering place for foreign writers and readers.
The festival program can be read at bookwormfestival.com.
Chinese author Sheng Keyi is one of the celebrity authors at the festival. [China Daily/Xing Yi]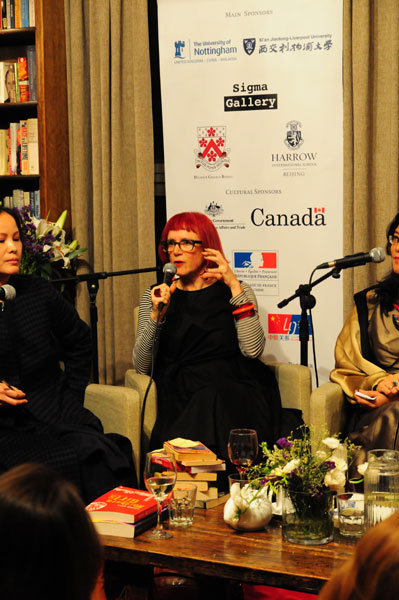 Australian author Linda Jaivin is one of the celebrity authors at the festival. [China Daily/Xing Yi]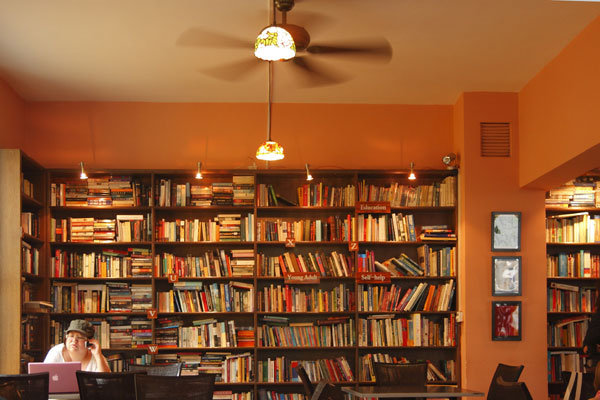 The Bookworm in Beijing's Sanlitun area has grown from an expat hub to a venue for various cultural events. [China Daily/Xing Yi]
(Source: China Daily)