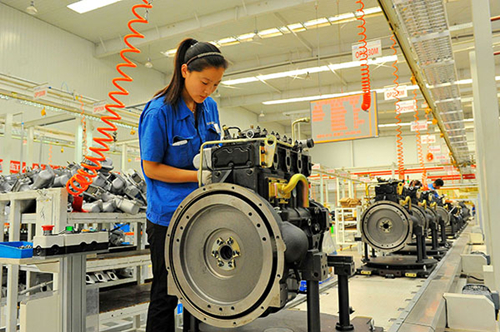 Workers assemble engines at a factory in Weifang, Shandong province. [China Daily]
More resources will be channeled into improving the vocational skills of young migrant workers, an official of the Ministry of Human Resources and Social Security said on Wednesday.
A report by the National Bureau of Statistics last year said the number of migrant workers in 2017 in China was about 286.5 million, up 1.7 percent year-on-year, with those born since the 1980s accounting for more than half the total. But only about 30.6 percent of them had received nonagricultural training.
"Migrant workers are a major social segment, especially the younger generation," said Zhang Lixin, director of the ministry's vocational capacity-building department. "But problems still remain with their skills training."
The ministry released a skills improvement plan in early January focusing on workers from rural areas born since 1980 who are engaged in nonagricultural industries.
"The younger migrant workers are different from the older generations," Zhang said. "The younger ones are better educated and have higher career and salary expectations. They are also more willing to improve their skills and start their own businesses. But they have fewer practical skills."
Skilled workers are in great demand in areas of manufacturing industry and the service sector.
"We have four new measures to help train the young workers," Zhang said. "For example, for those ready to work and who register for skills training courses, it's required that the courses be available to them in one month."
Migrant workers from poor families will be given priority in receiving the vocational skills training, he added.
"E-commerce courses will be taught to those who want to start their own businesses," he said.
Zhang said skills training courses are expected to be made available to average migrant workers and bring them benefits by the end of 2022. Training centers and companies are also being encouraged to get involved.
The ministry launched a plan in 2014 focusing on improving migrant workers' vocational skills. By the end of 2017, attendance at State-supported training programs totaled about 39 million.
(Source: China Daily)