A police officer explains the regional laws on the protection of women's rights and interests to local residents during a publicity event in north China's Tianjin. [Tianjin Women's Federation]
Women's federations across China have put much effort into improving their work on the protection of women's rights and interests since the 18th National Congress of the Communist Party of China (CPC), held in 2012.
President Xi Jinping said at the Global Leaders' Meeting on Gender Equality and Women's Empowerment, in 2015, that "Women's rights and interests are basic human rights. They must be protected by laws and regulations and integrated into national and social rules and norms."
With the guidance of the CPC Central Committee with Xi Jinping at its core, women's federations have thus contributed in many ways to improving relevant laws to better serve women and children.
Anti-Domestic Violence
In addition to the implementation of the Law on the Protection of Rights and Interests of Women, the All-China Women's Federation (ACWF) further promoted the enactment of the Anti-Domestic Violence Law. Since its implementation in 2016, courts at various levels have issued a total of 2,154 personal safety protection orders to individuals.
The ACWF has put forward many suggestions regarding the amendment of laws on sexual assault, child trafficking and forms of abuse which endanger women and children's lives.
Since the 18th CPC National Congress, the ACWF has participated in the making and amendment of over 80 laws and regulations as an effort to help improve the legal system related to women and children's rights protection.
Federations at regional levels have participated in the formulation of over 3,000 laws and policies, according to statistics.
Equal Employment
Last year, a company in Cangzhou, north China's Hebei Province, released a recruitment ad which stated that applicants should be "men-only" without any explanation as to why the job would be inappropriate for women.
After hearing about this ad, Cangzhou Women's Federation investigated the company and urged it to delete the posting or remove the gender restriction. The company then reposted the ad in which the gender restriction was deleted.
Meanwhile, women's federations in Jiangsu, Heilongjiang and Jilin provinces cooperated with local departments of human resources and social security to launch relevant guidance to promote the formation of an equal local employment environment.
Women's Land-use Rights
How to better protect rural women's land-use rights and interests is a key challenge for officials to tackle.
The ACWF has made intensified efforts to ensure women's land-contracting rights, protect their rights to manage land, and secure their entitlement to register their names on certificate books and share in proceeds from the rural collective property system.
With the cooperation of local governments, women's federations and agricultural departments, some 27 provinces had issued documents or held seminars to put forward requirements to better protect rural women's land rights and interests by the end of 2016.
Comprehensive Legal Mechanism
In order to promote gender equality, 29 provinces, autonomous regions and municipalities across the country have integrated an assessment mechanism into local regulations to help achieve gender equality and the development of the social economy.
In addition, women's federations have improved their service models to popularize legal knowledge among women.
For example, Qinghai Women's Federation in northwest China has set up a special advisory team, the "12338" service hotline and new media platforms to publicize legal knowledge on rights protection.
It is expected that with support from women's federations at all levels, significant achievements will be made in protecting women's rights and interests.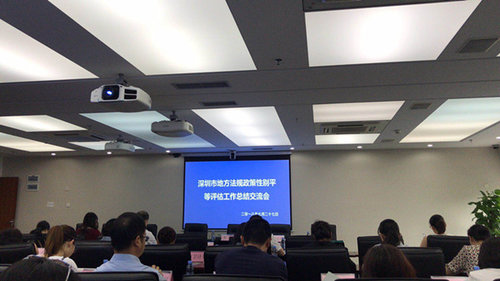 Officials in the city of Shenzhen, south China's Guangdong Province, hold a conference to sum up the work on the implementation of the recently-introduced assessment mechanism for gender equality in legislation and policy making. [szgm.gov.cn]
(Source: China Women's News/Translated and edited by Women of China)