Chinese President Xi Jinping [Women Voice]
Chinese President Xi Jinping attended a conference to honor national model households on December 12 in Beijing, where he highlighted the role of families and stressed the importance of culture and education at home.
Calling families the "cells of society," Xi said that healthy family culture helps lay "an important foundation" for national development, progress and social harmony.
Over the past four years, many of Xi's speeches have also emphasized such themes.
Meeting ACWF Leading Officials
"Attention should be paid to make full use of women's unique role in inheriting traditional virtues and cultivating good family culture. It affects domestic and social harmony as well as the healthy growth of the next generation," said Xi whilst meeting newly-elected officials of the All-China Women's Federation in October 2013.
Inspection to Peking University
"Chinese sages of ancient times always valued the step-by-step Confucian moral cultivation theory of acquiring knowledge through investigation, being sincere in thoughts, rectifying hearts, cultivating minds, regulating families, governing the state rightly and then achieving a peaceful world," said Xi during an inspection visit to Peking University in May 2014.
Work Conference on Ethnic Minorities
"The relationship between the Chinese nation and all Chinese ethnic groups is that of a big family and its members. In other words, these groups are different members of a family," commented Xi when attending the government's Work Conference on Ethnic Minorities in September 2014.
Gathering to Celebrate the Chinese New Year
"The family is the basic unit of society, and the first school that we attend in life. Regardless of how the times change, or how our lives are transformed, we must remain committed to making our families better, laying emphasis on life, learning, and our conduct in the home," stressed Xi whilst addressing attendees at a gathering organized by the State Council to celebrate the Spring Festival in February 2015.
"On the basis of cultivating and promoting core socialist values, we should carry forward the fine family values of the Chinese nation; promote close and harmonious relationships among family members; create conditions for the healthy growth of the next generation; and, ensure that elderly people receive the care they need, so that thousands upon thousands of families become an important bedrock for the development of the country, the progress of the nation, and the harmony of society," Xi added.
Government Meeting to Deepen Reform
During the 10th meeting of the Central Leading Group for Comprehensively Deepening Reform held in February 2015, Xi said: "The household life of officials is not a small personal matter but reflects their moral traits."
Awards Ceremony for Advanced Individuals and Organizations in Civilization Building
"We should strive to promote outstanding traditional Chinese culture, whilst improving Party and government conduct in society and family vigorously, to make our culture deeply rooted in teenagers and children's mind," said Xi in February 2015, at a national meeting to honor outstanding individuals and organizations.
Meeting Former Taiwan Leader Ma Ying-jeou
"People on both sides of the Straits are one family. We are brothers who are still connected by flesh even if our bones are broken," said Xi to the then Taiwan leader Ma Ying-jeou on November 7, 2015 during a meeting in Singapore, where they called for cooperation and peaceful development of relations across the Taiwan Strait.
6th Plenary Session of the 18th CPC Central Commission for Discipline Inspection
"Officials should place emphasis on building culture in the home, and preserve integrity when cultivating moral characteristics and regulating families, suggested Xi at the 6th plenary session of the 18th CPC Central Commission for Discipline Inspection in January this year.
32th Collective Learning Activity of CPC Central Committee Political Bureau
"We should strengthen family construction and educate and encourage people to fulfill their familial responsibilities and cultivate their conduct in the home to enhance the status of family-based old-age care," stressed Xi at the 32th collective learning activity for the Political Bureau of the Central Committee of the Communist Party of China this May.
Inspection to Beijing Bayi School
"Parents should respect schools' arrangements in teaching, respect teachers' creativity and coordinate schools' work on promoting children's study, and cultivate behavior in the home to provide kids with correct guidance," said Xi in September this year during an inspection tour of Beijing Bayi School.
Instructions on Intra-Party Disciplinary
"Members of the Political Bureau of the CPC Central Committee should observe the eight major rules rigorously, take part in Party meetings actively, report all important facts concerned, strengthen education and supervision over their family and staff and play an exemplary role in promoting family virtues," Xi noted in November this year, as detailed in his written supplement to the Rules on Intra-Party Political Life in a New Environment and Regulations on CPC Intra-Party Supervision.
37th Collective Learning Activity of CPC Central Committee Political Bureau
"Party officials should strive hard to become moral role-models for people across the society and lead them by example in practicing socialist core values. Moreover, officials should observe the Party spirit and ethical standards; foster a social trend of promoting family building and intra-Party integrity; and, abide by laws," Xi commented at the 37th collective learning activity for the Political Bureau of the CPC Central Committee in May this year.
President Xi (C) speaks to the then newly-elected senior officials of the ACWF at a Beijing meeting on October 31, 2013. [Xinhua/Lan Hongguang]
President Xi (C) visits a lab during an inspection to Peking University on May 5, 2014. [Xinhua/Ma Zhancheng]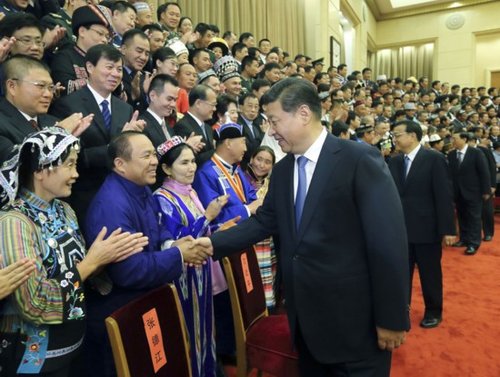 President Xi (R) shakes hands with an advanced individual at the 6th awards ceremony for role models making great contributions to ethnic harmony on September 29, 2014. [Xinhua/Lan Hongguang]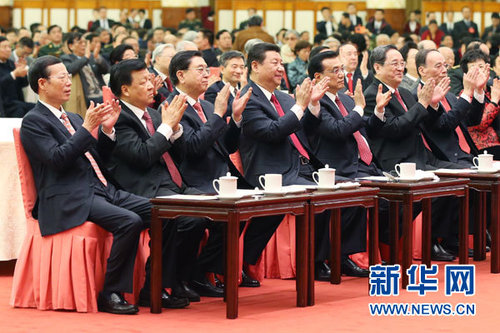 President Xi (front, L4) attends a gathering to celebrate the Spring Festival at the Great Hall of the People in Beijing on February 17, 2015. [Xinhua/Yao Dawei]
President Xi (R) shakes hands with an attendee at the 10th meeting of the Central Leading Group for Comprehensively Deepening Reform on February 27, 2015. [ccln.gov.cn]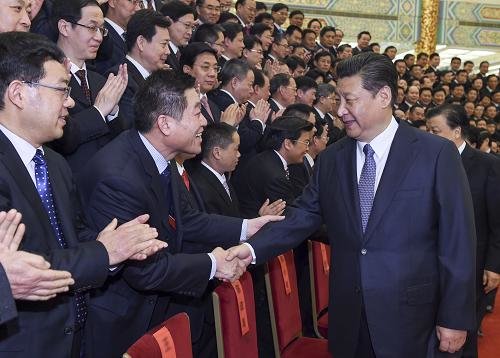 President Xi (R) meets with the 4th national role models in civilized cities, townships, villages and units building and juvenile morality education at the Great Hall of the People in Beijing on February 28, 2015. [Xinhua/Li Xueren]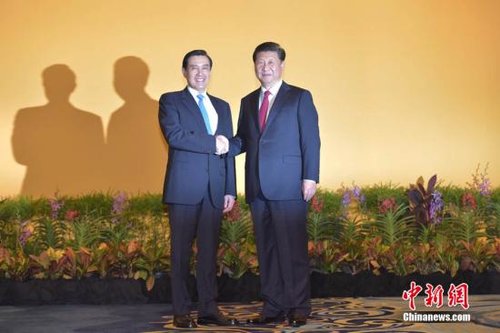 President Xi Jinping meets with the then Taiwan leader Ma Ying-jeou in Singapore for cooperation and peaceful development of relations across the Strait on November 7, 2015. [China News Agency]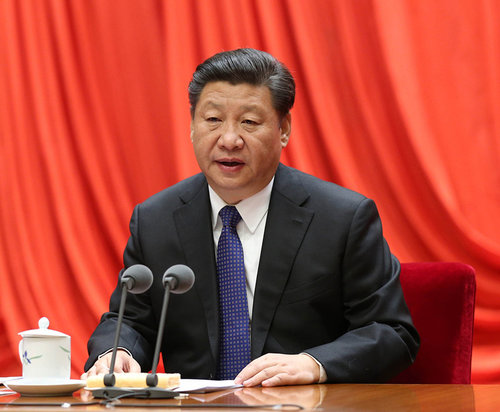 President Xi speaks at the 6th plenary session of the 18th CPC Central Commission for Discipline Inspection on January 12, 2016. [cpc.people.com.cn]
President Xi (L3) talks with teachers at Beijing Bayi School on September 9, 2016. He sent his festival wishes to teachers of the school one day prior to this year's Teacher's Day. [wxyjs.org.cn]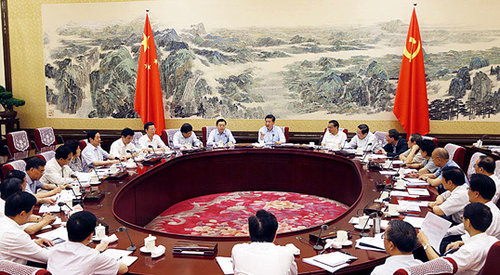 President Xi (back, C) attends a collective learning activity for the Political Bureau of the CPC Central Committee. [blog.sina.com.cn]
(Source: Women Voice/Translated and edited by Women of China)