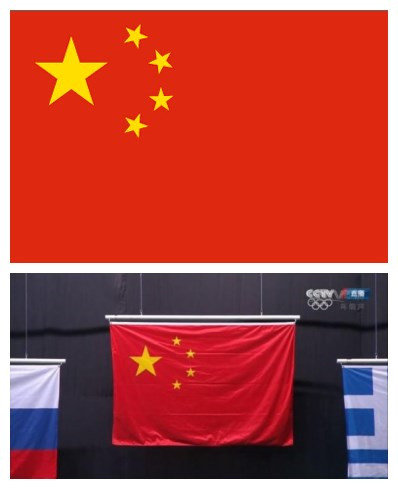 Snapshot photo shows a flawed Chinese national flag fly at the Rio Olympic Games. [People's Daily Online]
A Brazilian company has finished production of new Chinese national flags, which will be soon dispatched to Rio Olympic venues to replace the inaccurate ones, Xinhua News Agency reported.
According to the Chinese Embassy in Brazil, after it came to light that inaccurate Chinese flags had been used at several medals ceremonies in Rio, the Chinese Olympic Committee petitioned the organizing committee of the Rio Olympic Games to correct the mistake. The organizing committee agreed to replace the inaccurate Chinese flags for the remainder of the Games.
The company that the committee commissioned to produce all the national flags is located 75 kilometers from the city of Sao Paulo. In order to urge manufacturers to complete the flags as soon as possible, the Chinese Consulate General in Sao Paulo sent staff members to supervise the production on-site. After 30 hours of overtime work, the manufacturers finished the Chinese flags four to five days ahead of schedule.
The flags are expected to arrive in Rio on the 11th, and will be promptly dispatched to various Olympic venues. The whole process will be completed under the supervision of the Chinese Embassy in Brazil.
Song Yang, Chinese Consul General in Rio, said, "I'm looking forward to watching the national flags raised in the Rio Olympics, and our athletes continuing to achieve success."
On Aug. 6, Chinese netizens astutely pointed out that the Chinese flags flying at Olympic venues featured the four smaller stars of the Chinese flag laid out in a parallel pattern. Instead, the stars should be rotated so that each one points toward the center of the flag's one large star. The Rio Olympics organizing committee has apologized for the mistake.
(Source: People's Daily Online)
Please understand that womenofchina.cn,a non-profit, information-communication website, cannot reach every writer before using articles and images. For copyright issues, please contact us by emailing: website@womenofchina.cn. The articles published and opinions expressed on this website represent the opinions of writers and are not necessarily shared by womenofchina.cn.