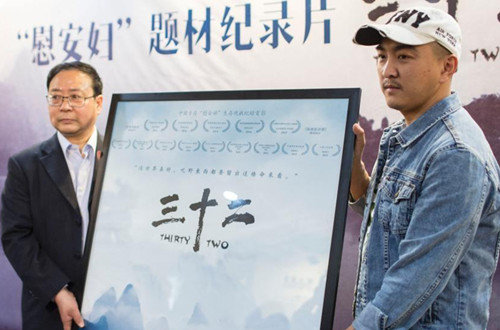 Guo Ke (R), director of Thirty Two, a documentary on the life of China's last surviving "comfort women", presents the film to Zhang Jianjun, curator of the memorial site. [Chinanews]
The director of Thirty Two, a documentary on the life of the last surviving Chinese "comfort women", donated a copy of the film to a memorial organization in the city of Nanjing, east China's Jiangsu Province, on April 12.
"Comfort women" is a euphemism used to describe those captured and forced into sexual slavery by Japanese soldiers during the Chinese People's War of Resistance Against Japanese Aggression (1937-1945).
Guo Ke, director of the feature, presented the copy to the organization at a special ceremony. It will be broadcast in the group's exhibition hall in the future, said Zhang Jianjun, curator of the site.
The feature, which started shooting in December 2012, is mainly about the stories of Wei Shaolan and her half-Japanese son Luo Shanxue.
After fleeing imprisonment in a "comfort station", she found she was pregnant and months later gave birth to her son.
The director chose the name because the number of surviving "comfort women" in the country was only 32 when the film was shot.
In 2014, Guo and his team shot another documentary Twenty Two, which took as its subject 22 Chinese women, who were then the last remaining "comfort women" individuals.
The film has been completed and will be released soon.
An estimated 200,000 Chinese women were forced into prostitution by the Japanese army during WWII.
More recently, the population of the group has fallen to 21, said Su Zhiliang, director of the Chinese Comfort Women Research Center who serves as one of the film's advisers. The latest one to pass away, on April 7, was Zhao Lanying, 93, from north China's Shanxi Province.
Guo said his purpose of shooting the two documentaries was to arouse more people's concern for the group.
The memorial site in Nanjing was the first one in China's mainland. It was identified by victims as a former military brothel run by Japanese invaders more than 70 years ago. Because of this connection, Guo decided it would be the most suitable place for the documentary to be housed.
(Source: Xinhua/Translated and edited by Women of China)