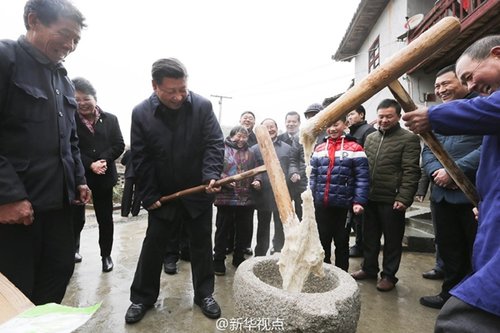 President Xi Jinping helps make the dough for ciba, a glutinous rice delicacy that is a local Spring Festival favorite, during a visit to the village of Shenshan in Jinggangshan in Jiangxi Province on February 2, 2016. [Xinhua]
Chinese President Xi Jinping visited one of China's oldest revolutionary bases, Jinggang Mountain, southeast China's Jiangxi Province, on Tuesday. This is the third time he has gone there to pay his respects to the historical revolutionary site and its people.
Since taking office as general secretary of the Central Committee of the Communist Party of China (CPC) in mid-November 2012, Xi has paid four such Spring Festival visits across the country. So what were his major concerns during these trips?
Poverty Alleviation
In February 2013, Xi visited impoverished villagers and migrant workers in northwest China's Gansu Province. He visited villages, enterprises and urban communities in Jiuquan, Dingxi, Linxia and Lanzhou to get first-hand information regarding the improvement of local residents' well-being, the development of western regions and the improvement of local officials' working methods.
Xi also visited elderly CPC members and impoverished villagers in the village of Yuangudui in the city of Dingxi, and the village of Bulenggou in the Linxia Hui Autonomous Prefecture.
Xi said central authorities attach high importance to poverty alleviation and the development of areas inhabited by ethnic minorities, assuring greater government support to help local people get out of poverty.
On January 26, 2014, Xi visited the family of Guo Yongcai, 74, who lived in poverty, in Yi'ershi Township of Arxan City, north China's Inner Mongolia Autonomous Region. He urged local government officials to accelerate the development of the area to allow people living there to move to new homes as soon as possible.
In a visit to a community in the city of Xilinhot, the president called on Communist Party officials working in communities to make residents' lives more convenient and comfortable.
On February 13, 2015, President Xi visited Liangjiahe, a revolutionary base in Yan'an, northwest China's Shaanxi Province. Xi had worked there for nearly seven years as a farmer before studying at Tsinghua University in Beijing.
Xi also visited the Fuzhou Hope Primary School at Yangjialing, Yan'an, which was built with donations from Fuzhou City, capital of southeast China's Fujian Province, in 1995 when Xi was Party chief.
While touring Jinggangshan in Jiangxi Province on February 2, 2016, Xi visited some local poverty-stricken households. At the home of Zhang Chengde, he visited the kitchen, bedroom, sheepfold, fishpond and latrine and asked about their production and life situation. "Without the development of old revolutionary bases, we will not be able to achieve a moderately prosperous society," said Xi.
Revolutionary Spirits
Since the 18th CPC National Congress in September 2012, President Xi has made inspection tours in old revolutionary bases including at Xibaipo in north China's Hebei Province, Linyi in east China's Shandong Province, Gutian in Fujian Province, Yan'an in Shaanxi Province and Zunyi in southwest China's Guizhou Province.
During his tour in Shaanxi Province on February 13, 2015, Xi went to Yan'an, Tongchuan, and provincial capital Xi'an, to inspect revolutionary memorial sites in addition to villages, schools, communities and research institutions.
Calling the "Yan'an spirit" of veteran revolutionaries and Party members the "spiritual treasure" of the CPC, Xi said strength should be drawn from it to ensure strict Party discipline and a close Party-people relationship.
During his recent visit to Jiangxi Province, Xi went to the famous Jinggangshan Mountain, known as the birthplace of the Chinese Red Army and the cradle of the Chinese revolution. He said that all Party leaders should bear in mind that a happy life is hard-earned and they should receive education to enhance their revolutionary spirits.
Xi also visited the living quarters of the Zuo family, a Red Army martyr descendant household. He made the local rice cakes with the family for the upcoming Spring Festival.
Grassroots Soldiers
President Xi visited grassroots soldiers respectively during his Spring Festival visits from 2013-2015.
During his inspection tour of the armed police in Beijing on January 29, 2013, Xi stressed the stability of the armed police and its absolute loyalty to the CPC. He reiterated that the armed police should be aware of its role in maintaining stability and improve its fighting capacity in order to achieve multiple tasks, including routine duties as well as handling emergencies.
The president made a trip to Inner Mongolia on January 26, 2014 to express his sympathy and give thanks to soldiers out in the snow. At the Chinese-Mongolian border, he stopped at a hilltop border post and inspected the garrison of a specialist nearby troop company.
On February 2, 2013, Xi went to a base of the Air Force of the Chinese People's Liberation Army (PLA) in northwest China's Gansu Province. He inspected some modernized equipment of the base and stressed that the CPC Central Committee and the Central Military Commission (CMC) attach great importance to the construction and development of the PLA Air Force and the development of weaponry and equipment. He also visited the Jiuquan Satellite Launch Center and the military authorities in Lanzhou, the provincial capital.
(Source: Beijing Youth Daily/Translated and edited by Women of China)