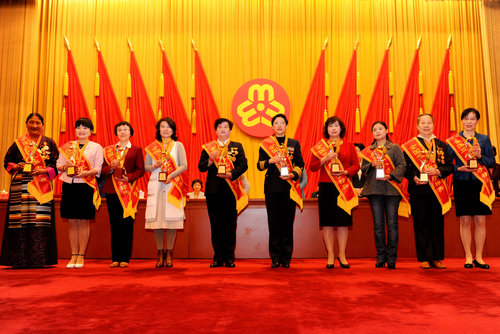 The ten "March the 8th Red Banner Pacesetters" receive awards. [Women of China/Zhang Ping & Fan Wenjun]
A conference marking upcoming International Women's Day on March 8, with awards for outstanding women representatives from across China was held in Beijing on March 1.
The highest awards went to ten "March the 8th Red Banner Pacesetters", whilst 3,300 individuals and 700 groups were also recognized.
Chinese Vice Premier Liu Yandong and Vice President Li Yuanchao attended the conference and met with the awarded representatives.
In his speech Li Yuanchao congratulated the representatives and called for all women in China to learn from their examples. He expressed good wishes to all for the annual celebration. Li also said that guided by the themes of the 18th National Congress of Communist Party of China (CPC) and the 3rd and 4th Plenary Sessions of the 18th CPC Central Committee, women of every ethnic group and from different walks of life in China have been striving for continuous improvement. They have high aspirations to make greater contributions to the realization of the "Chinese Dream", Li Added. He also made reference to the great rejuvenation of the Chinese nation, as had been called for at the 11th National Congress of Women.
Li expressed hope that under the leadership of All-China Women's Federation (ACWF), Chinese women can continue to play the important roles that are necessary in social and family life. He said that in this way they can further contribute to the achievement of the "Chinese Dream".
Li also hoped that in future the ACWF can continue its role of leading all women in China towards further development of the country. He said that the Federation will seek to implement its so-called "Four Comprehensives". These are "comprehensively build a moderately prosperous society, comprehensively deepen reform, comprehensively implement the rule of law, and comprehensively strengthen Party discipline."
President of the ACWF, Shen Yueyue, and Vice Chairperson of the Standing Committee of the Chinese People's Political Consultative Conference (CPPCC), Li Haifeng, also attended.
Shen said in her speech that all the women in China should strengthen their efforts in supporting and taking part in future reforms led by the CPC. They should abide by the law and play their important part in the promotion of traditional family values, she added.
At the awarding ceremony [women of China/Zhang Ping & Fan Wenjun]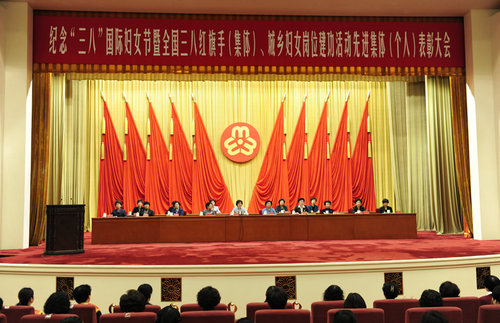 At the awarding ceremony [Women of China/Zhang Ping & Fan Wenjun]
Woman representative named Li Chunli speaks at the awarding ceremony. [Women of China/ Zhang Ping & Fan Wenjun]
Woman representative named Li Yuanmin speaks at the awarding ceremony. [Women of China/Zhang Ping & Fan Wenjun]