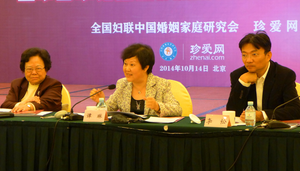 Vice-President of the CAMF and Member of the Secretariat of the ACWF Tan Lin (C) speaks at the launch ceremony. [Women of China/Yao Yao]
The China Association of Marriage and Family Studies (CAMF) and Zhenai.com, an online dating service system, jointly launched the first Happy Marriage and Family Project in Beijing on October 14.
President of the CAMF and former Vice-President of the All-China Women's Federation (ACWF) Zhen Yan said in her speech that the project aims to fully combine the wisdom and strength, from experts and scholars dedicated to the research and clarification of basic theoretical issues of marriage and family, becoming an academic voice of reason on such subjects.
Zhen also said that the CAMF, founded in 1982, has always adhered to the "promotion of the construction of civilization, harmony, equality, friendly marriage, family relations and family services for the community," as their core philosophy. She stressed that the Party and the country attach great importance to the role of the family in overall economic and social development. The research conducted will screw towards in-depth investigations of the specific objects of study, resulting in scientific research and rational analysis, which will be used to generate positive proposals to improve regulations and policies.
Vice-President of the CAMF and Member of the Secretariat of the ACWF Tan Lin affirmed the importance of the project. She stressed that the project should guide modern concepts of marriage and family, especially in terms of gender equality and family responsibility. The project should also further research the laws and regulations on marriage and how to establish a happy family.
President and CEO of Zhenai.com Li Song said that in modern fast-paced life, more and more single people are using blind dates to seek marriage. As China's leading dating site, zhenai.com not only cares about love but also happy marriage and family. Li hopes the project will provide guidance on how to build a happy family and the research results will be applied to the approximately 80 million members on zhenai.com.
Dong Dajie community in Nantong City, east China's Jiangsu Province and Zhanai.com have co-founded a VIP service center to research the guidance on marriage.
Vice-Chairperson of the Standing Committee of the Ninth National People's Congress Peng Peiyun and Vice-President of the CAMF Jiang Yue'e also attended the launch ceremony.