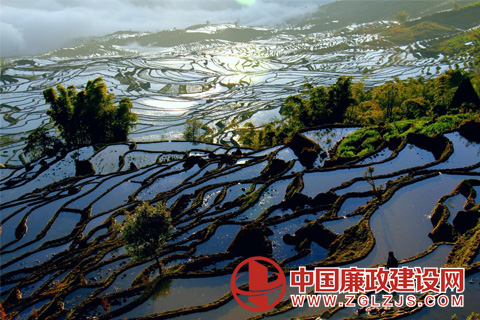 The terraced fields [zglzjs.com]
Over 100 households of rice growers from Honghe County, southwest China's Yunnan Province, have benefited from a targeted poverty alleviation project jointly launched by China Construction Bank (CCB) and China Women's Development Foundation (CWDF) over the past year.
Although the rice contains lots of microelements and essential amino-acids, people there failed to earn much money from the crop due to a lack of planting techniques and sales channels.
Naturally, locals grew less red rice, which in turn threatened the inheritance of the culture of Hani terraced fields which had a history of well over 1,000 years.
After finding this treasure in 2017, CWDF launched a project in the county by virtue of its abundant experience in poverty alleviation.
Thanks to the project, impoverished people there were offered training on planting, e-commerce and technology, through which they began to get rid of poverty through their own efforts.
In March 2018, CCB also embraced red rice, taking it as an important project of its headquarters.
In April this year, Hani red rice was officially launched in CCB's commercial platform Shanrong, which publicized the product comprehensively through online and offline advertisements.
With the support of CCB, about 40 tons of red rice have been sold.
Thanks to the eco-friendly poverty alleviation program initiated by the two organizations, the lucid waters and lush mountains in the impoverished mountainous areas are well protected and bring in a high income for locals concurrently.
In the red rice project, CWDF and CCB have made new grounds in poverty alleviation by playing their own unique roles.
The CWDF, by conducting field surveys, mainly helps locals find a reasonable development direction in accordance with the local conditions, while CCB contributes to solving the problem of poor sales for the industry by making use of its online strength.
(Source: Xinhua/Translated and edited by Women of China)