Attendees at the donation ceremony [Women of China/Fan Wenjun]
Organizers from the Health Express for Mothers charity project sent 54 mobile vehicles equipped with medical gear to provinces in the northwest of the country on November 26 following an official ceremony in Beijing.
The vehicles were sent to underdeveloped towns and counties in Shaanxi, Gansu provinces and Ningxia Hui Autonomous Region.
The vehicles were donated by China Construction Bank (CCB) at a ceremony jointly held with China Women's Development Foundation (CWDF).
Before the event, Shen Yueyue, President of the All-China Women's Federation (ACWF), and Huang Xiaowei, Vice-President and First Member of the Secretariat of the ACWF, spoke to senior officials from the bank such as CCB's president Tian Guoli. Shen and Huang thanked them for their long-term support extended to charitable projects for women.
At the ceremony, Meng Xiaosi, President of the CWDF, received a 8 million-yuan donation from CCB and presented an honorary certificate in exchange.
Leaders who attended the ceremony gave keys for the vehicles to representatives of local women's federations.
The 54 vehicles will benefit women's health exams and medical treatment and offer healthcare for pregnant women and new moms in the underprivileged areas.
Zhao Wen, member of the Secretariat of the ACWF, spoke at the ceremony.
Zhao highlighted the importance of acting under the guidance of the important speech made by President Xi Jinping when he met the newly elected leadership of the ACWF in November. Meanwhile, she said more effort should be invested in improving the lives of impoverished people, especially women.
Zhao also praised the project's positive role in promoting the healthy development of women and children in the new era. She called on the women's federations in the areas receiving help from the project to strengthen their sense of responsibility and make full use of the social benefit brought about by the project.
Representatives of CCB and rural hospitals respectively also gave speeches at the ceremony.
Since 2011, CCB has made cumulative donations worth 54 million yuan to the project and purchased 357 vehicles that have been used in impoverished areas from 23 provinces and regions as well as Laos and Cambodia.
The project has benefited 2.16 million people altogether. Some 692,800 people received free medical consultation service, 1.09 million people enjoyed health screenings and 312,600 grassroots workers received training through the project. Besides, 35,800 critically ill patients were treated and 28,700 pregnant and lying-in women were sent to hospitals in the vehicles, according to a representative of CCB.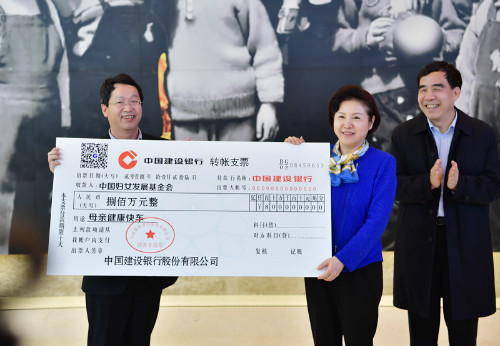 Meng Xiaosi, President of the CWDF, receives the donation from China Construction Bank. [Women of China/Fan Wenjun]
Representatives of the provinces benefiting from the project receive the vehicles' keys. [Women of China/Fan Wenjun]
Attendees witness the launch of the vehicles. [Women of China/Fan Wenjun]
Vehicles equipped for the Health Express for Mothers project get ready to start their journeys. [Women of China/Fan Wenjun]