Zhang Jianmin presents a honor certificate to Zhang Zhaoda. [Women of China / Fan Wenjun]
Organizers held an exhibition, fashion show and gala dinner at Dalian International Conference Center in northeast China's Liaoning province on November 17 to celebrate traditional culture and crafts.
The charity event was organized by China Women's Development Foundation (CWDF), the Publicity Department of Dalian Municipal Party Committee, the Party Working Committee of Jinpu New Area, Xinhua news agency, and China Culture Administration Association (CCAA).
Attendees included officials from Liaoning Women's Federation (LWF), China Fashion Association (CFA), professionals from the academic, fashion, charity, and business circles and representatives of the organizers.
Zhang Jianmin, deputy secretary-general of CWDF, and Liu Jinhong, director of the Publicity Department of the Party Working Committee of Jinpu New Area, both delivered speeches.
The activity was held to mark CWDF's two-year Mom's Handworks charity project.
The exhibition featured over 40 artworks, and received high praise from visitors.
Zhang Zhaoda, vice president of CFA and designer of the clothes displayed at the fashion show, presented a visual feast to audiences through a variety of formal and elegant dresses.
At the dinner, organizers auctioned several of the works produced by craftswomen involved in Mom's Handworks project. Money collected through the process will be used to fund the project's future initiatives.
CWDF has been constantly focusing on poverty alleviation and women's development over the past several years.
As part of its attempts to improve women's abilities, it has established over 40 Mom's Handworks cooperatives in 12 provinces such as Qinghai, Yunnan and Guizhou.
The cooperatives work to carry forward traditional Chinese handicrafts like tie-dye, wax printing, and embroidery, and have helped over 2,000 women find jobs.
The charity works to promote the national poverty alleviation campaign and spread traditional Chinese culture, according to a spokesperson.
Literary and artistic creations are exhibited during the activity. [Women of China / Fan Wenjun]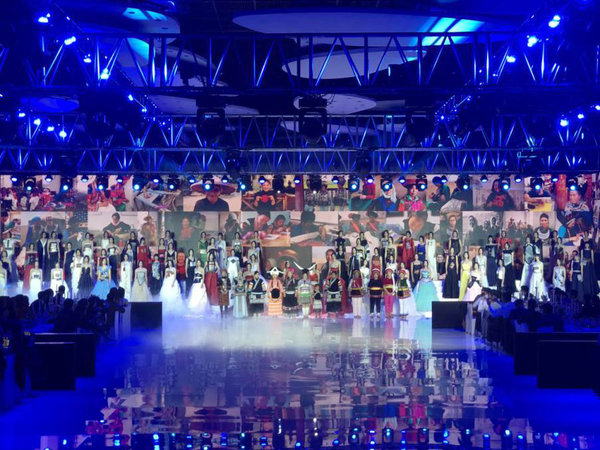 Participants present a fashion show during the activity. [Women of China / Fan Wenjun]
(Source: China Women's Development Foundation / Translated and edited by Women of China)