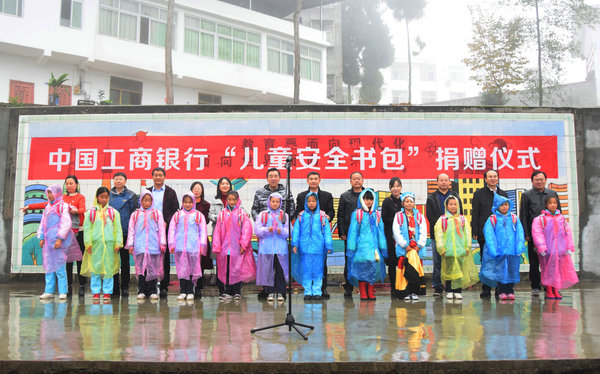 Officials and young representatives attend the charity activity. [CWDF]
The Industrial and Commercial Bank of China (ICBC) and China Women's Development Foundation (CWDF) organized a charity activity in southwest China's Sichuan Province from November 10-16 to help so-called "left-behind" children.
Nearly 100 participants including officials of the two organizations and local women's federations attended the event.
As part of the initiative, ICBC made a donation of 1.5 million yuan to purchase schoolbags which have life-saving functions for 6,750 children in counties of Nanjiang, Tongjiang, Jinyang, and Wanyuan.
"ICBC has always been highly concerned with philanthropy," said a representative. "By constantly participating in such activities, we hope present society with an honest, responsible, charitable and friendly image."
"The move plays a positive role in protecting the safety of rural children, as well as fostering a favorable environment and system for their growth.
"It is also part of the national poverty alleviation campaign which was launched by the Central Committee of the Communist Party of China and the State Council," the representative added.
Initiated by CWDF in 2015, the Children's Safety Schoolbags project targets improving the growth environment for children who live without supervision from their migrant worker parents, and raising teachers' safety awareness.
Up till now, organizers have given out 36,174 schoolbags, provided over 50 safety-themed classes, and donated 7,103 accident insurance policies.
A total of 36,174 children have benefited from the project, according to an official.
(Source: China Women's Development Foundation / Translated and edited by Women of China)