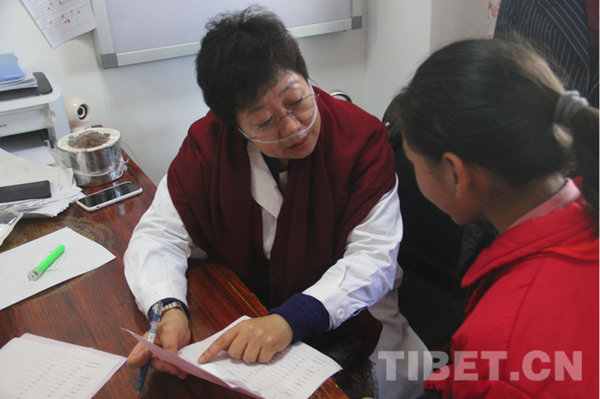 Doctor Li Li gives a visual exam for a student. [Tibet.cn]
China Children and Teenagers' Fund (CCTF) recently launched a public-welfare project on the theme of "Protecting Children's Eyesight and Hearing" to focus on youngsters' health in southwest China's Tibet Autonomous Region.
Experts from Beijing in the fields of ophthalmology, otolaryngology, and head and neck surgery were invited to check the eyesight and hearing of children in Lhasa.
Apart from conducting tests for children, the doctors also brought the latest medical technology for use in local hospitals.
"I learned that there were medical experts from Beijing who had come to perform free audio-visual inspections for children, so I brought my kid over here to have a check-up at the community health center of Chengguan District in Lhasa," said one citizen named Yangzhen.
However, to copy with the effects of the above 3,000 meter-high altitude on humans, doctors could not but work whilst inhaling oxygen.
The 11 experts conducted visual and hearing screening for nearly one thousand Tibetan children from 9:30 a.m. to 6 p.m.
Since 2015, the Health Education of Children project of CCTF has organized three such public-welfare projects, with support from the Special Fund Team for Medical Poverty Alleviation of CCTF.
The official in charge of the project said: "The goal of setting up the medical station is to screen children in Tibet and establish audio-visual archives for long-term research, as well as provide medical assistance to these impoverished children."
"At the same time, it can be helpful to promote local development in terms of children's medical services, by means of communicating, training, remote diagnosis, and medical assistance among hospitals," the official added.
As the professional teams on medical poverty alleviation, the Health Education of Children of CCTF and the Special Fund Team for Medical Poverty Alleviation of CCTF mainly aim at establishing medical stations, carrying out free medical consultation, donating medical equipment, and providing training for medical personnel.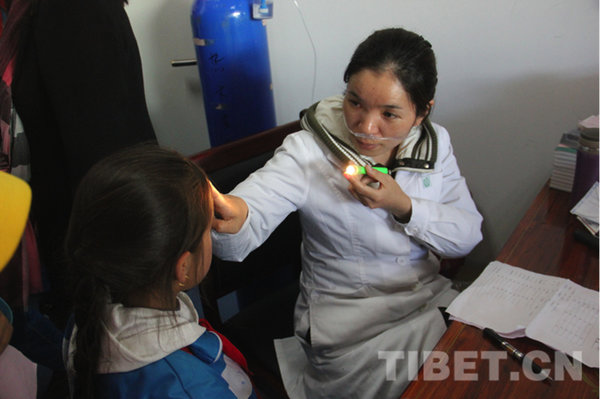 A doctor, wearing an oxygen mask, gives a visual exam for a student. [Tibet.cn]
A medical expert examines the hearing of a student. [Tibet.cn]
(Source: Tibet.cn/Translated and edited by Women of China)