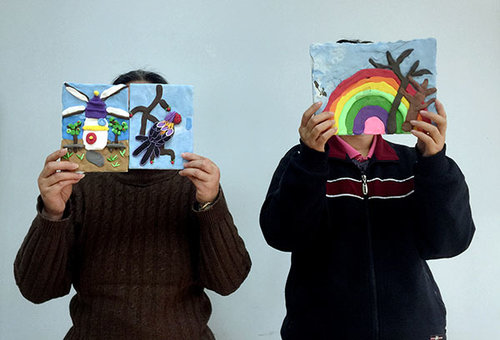 People with mental health issues display their clay paintings as part of a training program at the Beijing Haidian Tiancunlu Health Center. [China Daily/Wang Jing]
The southern metropolis of Guangzhou had registered more than 50,000 residents who have serious mental diseases and more than 18 percent are teenagers who are younger than 18 years old, according to a local health official.
Zhang Yi, director of the Disease Control Section with the Guangzhou Bureau of Health and Family Planning Commission, made the remarks at a press conference in the city on Tuesday to mark World Mental Health Day, which falls on October 10 each year.
Of the local seriously mentally ill, 53 percent were diagnosed with schizophrenia. And the local prevalence of serious mental diseases stands at 0.355 percent, according to Zhang.
He said mental health has now become an increasing concern in society and relevant departments should spare no effort to introduce concrete and effective measures to help cope with the situation.
"Hospitals and psychiatrists on neighborhood committees should establish health files for every patient of mental illness to increase management and offer special treatment and services to them," Zhang said.
Li Jie, a senior psychiatrist from Guangzhou, urged young people in the city to learn how to release pressure to prevent mental illness.
"Young people should increase communication and exchanges with parents, friends, teachers, colleagues and classmates to help ease the pressure on them when they are struggling with their work and studies," he said.
By the end of June, Guangzhou had 52 special clinics, including 9,394 ward beds, that offer treatment to mentally ill patients. Out of every 100,000 people, there are an average 6.48 psychiatric beds in the city, higher than the national standard of 4.64.
Meanwhile, Guangzhou now has registered a total of 752 psychiatrists, compared with 624 registered by the end of 2016.
(Source: China Daily)