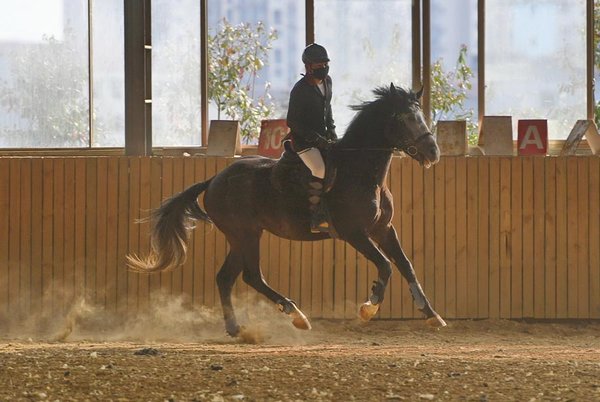 Student Bator in a training session. [Xinhua]
Yihuang in Fuzhou, Jiangxi province, is a small agricultural county dominated by mountains. People here raise cattle and dogs, but horses are rarely seen.
However, at the county's Sunshine Equestrian School, a group of teenagers are dreaming of becoming knights on the field.
In 2015, the Sunshine Equestrian School was founded with the support of the local government to train children free of charge through school-enterprise cooperation.
The school has more than 90 students, the vast majority of whom are "left-behind children" from rural areas, whose parents are working in the big cities.
These children entered the world of horses by happenstance.
And in order to get familiar with the animals, they first began to bathe them every day and fix their horseshoes, besides cleaning the stables.
And soon, with their coach's instructions, they began to learn and master the various movements needed for equestrian events.
At present, most of the 90 students are admitted to well-known equestrian clubs in Beijing and Shanghai.
"This has given the rural children an alternative.
"I believe that by learning this skill they can change their fate themselves.
"At the same time, they have become more self-disciplined, confident and strong," says Wu Qingde, a teacher at the equestrian school.
Tang Siqi feeds a horse an apple. [Xinhua]
A student training session outdoors. [Xinhua]
(Source: China Daily)