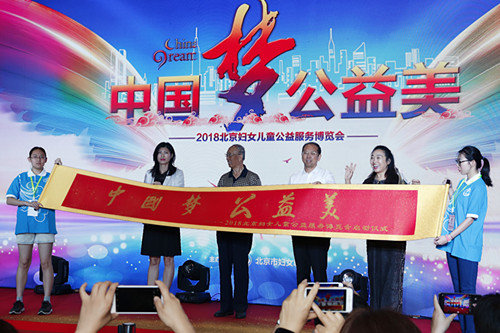 Officials attend the opening ceremony of the 2018 Beijing Women and Children Public Services Expo on July 13. [Beijing Women's Federation]
Beijing Women's Federation (BWF) held the 2018 Beijing Women and Children Public Services Expo in the China National Convention Center from July 13-15 to demonstrate various public services available for women and children in the capital.
During the three-day expo, which took "The Chinese Dream, the Beauty of Charity Events" as its theme, the BWF organized a total of 126 activities in the form of interactive experiences, stage performances, exhibitions and promotions.
BWF also arranged counseling and discussion sessions, and a themed symposium to cast light upon family-oriented environmental protection, health, culture, education, and safety, among other issues.
Fifty-two social organizations and services available to women and children were recommended to the public at the event and are expected to benefit over 100,000 people across the city.
Meanwhile, Beijing Association for Promoting Women and Children's Social Services was set up on the sidelines of the expo to popularize science among local women and children and provide philanthropic assistance and social services to them.
So far, the expo has become an important channel for the BWF to make full use of its function and role. It has grown into a comprehensive platform for the federation to better serve relevant social organizations, and develop into a flagship organization benefiting women, children and their families, said officials.
Those present at the expo's opening ceremony included representatives from Beijing Volunteer Association and Beijing Association of Social Workers, as well as district women's federations, social organizations and charity-minded enterprises.
Zhao Haiying, member of the Party Leadership Group and vice-president of the BWF; Lu Jian, member of the Social Work Commission of Beijing Municipal Party Committee; and other officials from local government departments also attended the gathering.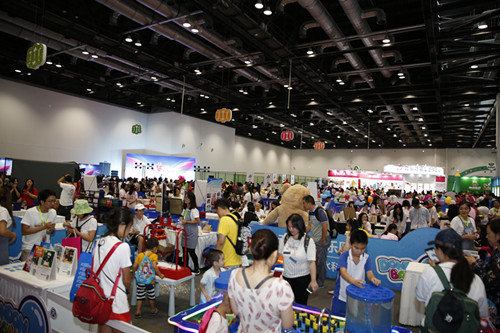 Participants at the 2018 Beijing Women and Children Public Services Expo [Beijing Women's Federation]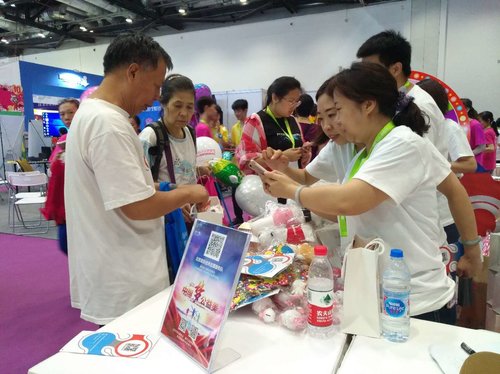 Participants at the 2018 Beijing Women and Children Public Services Expo [Beijing Women's Federation]
Participants at the 2018 Beijing Women and Children Public Services Expo [Beijing Women's Federation]