Attendees at the event [Beijing Aili Myasthenia Gravis Care Center]
The 3rd China Myasthenia Gravis (MG) Conference kicked off in Beijing on June 14 to raise public awareness and offer help to patients who suffer from the rare, chronic autoimmune disease that causes weakness in the skeletal muscles.
The event was hosted by China Social Welfare Foundation (CSWF) and co-sponsored by the Neuro-immunology Committee of the Chinese Society for Immunology, and Beijing Aili Myasthenia Gravis Care Center (hereinafter referred to as Aili Care Center).
The theme of the conference was "Love will make changes".
Since it was founded in 2014, the event has been organized every two years as a comprehensive meeting which gathers patient representatives, doctors and social experts together to explore the disease in depth.
At the inaugural event, Aili Care Center proposed to mark June 15 as Myasthenia Gravis Day.
The 2018 Report on Status of Adults with Myasthenia Gravis in China was released at the conference.
Through investigating over 800 patients, authors of the report said the overall ratio of males to females with the disease was 3:7. Thus, it affects women more than men.
The youngest patient in the study was two, while the eldest was 81. Some 25 percent of patients displayed symptoms before they reached 20; over 50 percent did so before 30; and over 95 percent before they reached 60.
Through analyzing the patients' disease diagnosis and treatment, rehabilitation conditions and living habits, the authors said there is little social support available in China to MG patients.
It is important to call on the public to pay more attention to the disease and help patients enjoy a more positive and high-quality life, said officials.
A documentary on how people live with myasthenia gravis was presented at the event. Participants were particularly touched by the story of Yang Xiuhua, a woman who has been suffering from such disease.
The authors called on everyone to understand and support those people with the disease.
In May, the National Health Commission of China released the first Chinese Rare Disease Reference List which included generalized myasthenia gravis. It is hoped the recognition will attract more parties to place attention on the disease and bring positive changes to all patients.
Actor Zhang Xiaolong, who was appointed as ambassador of Myasthenia Gravis Day 2018, attended the event. He launched an activity to call on everyone to extend their greetings to strangers so as to establish a basis of mutual trust and transfer positive energy to the world.
The conference included richer activities and more highlights than ever before.
Besides forums on medical policies and international exchanges, the organizers also offered to provide social treatment to patients through a combination of drama, nature, art, sports and handwork.
Furthermore, organizers hold a 6.15-kilometer hike activity on June 17 at CAIA Beijing Exhibition and Convention Center to invite the public to communicate with patients.
Nearly 150 people with MG and their relatives attended the event. Other participants included medical teams and patient representatives from Japan, Bangladesh, the U.S. and southeast China's Taiwan as well as over 50 multidisciplinary medical experts.
Gu Yanfen, deputy secretary-general of China Social Welfare Foundation, delivers a speech at the event. [Beijing Aili Myasthenia Gravis Care Center]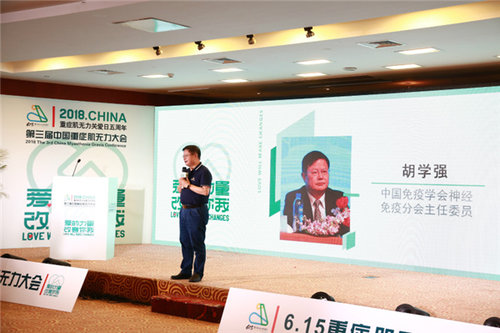 Hu Xueqiang, chairman of the Neuro-immunology Committee of Chinese Society for Immunology, delivers a speech at the event. [Beijing Aili Myasthenia Gravis Care Center]
Professor Dong Dong, director of Beijing Aili Myasthenia Gravis Care Center, analyzes the "2018 Report on Status of Adults with Myasthenia Gravis in China" at the event. [Beijing Aili Myasthenia Gravis Care Center]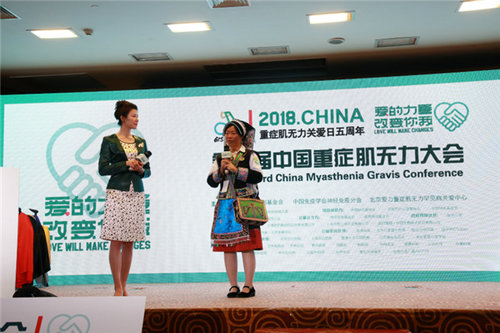 Yang Xiuhua, a woman with MG, tells her own story to participants. [Beijing Aili Myasthenia Gravis Care Center]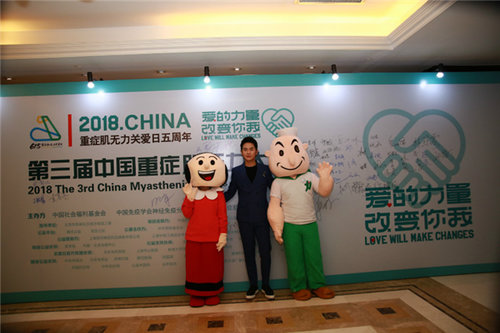 Actor Zhang Xiaolong, who was appointed as the ambassador of Myasthenia Gravis Day 2018, attends the event. [Beijing Aili Myasthenia Gravis Care Center]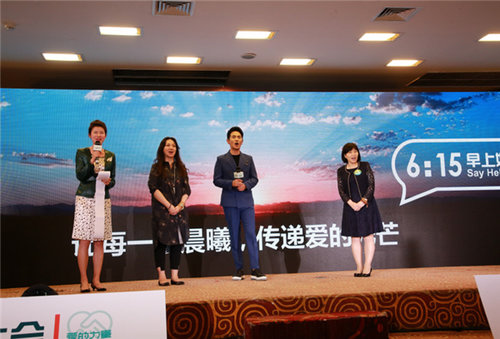 Zhang Xiaolong and other guests launch an activity at the event. [Beijing Aili Myasthenia Gravis Care Center]
People with MG recite poetry at the event. [Beijing Aili Myasthenia Gravis Care Center]