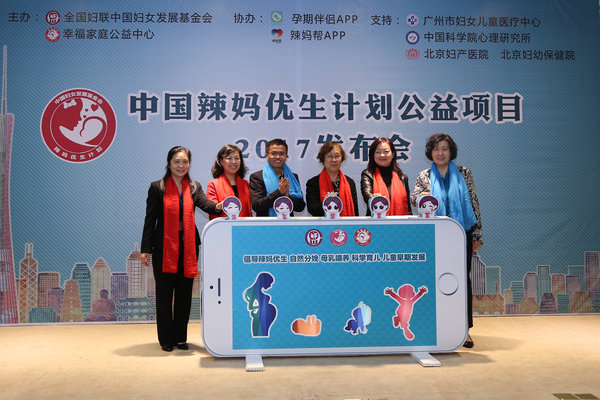 Attending leaders unveil this year's program together. [CWDF]
The China Women's Development Foundation (CWDF) launched the 2017 Chinese Mother Healthy Birth Program on March 7 in the southern city of Guangzhou, Guangdong Province.
Representatives from 500 maternal and child healthcare hospitals and early childhood education systems in 29 provinces, autonomous regions and municipalities attended the launch at the Guangzhou Women and Children's Medical Center.
Zhang Jianmin, deputy secretary-general of the CWDF, expressed her thanks to cooperating organizations for exploiting technological platforms and promoting scientific child birth and child rearing in their work. Zhang also presented honorary medals to relevant enterprises.
After unveiling this year's program, attending senior officials handed out honorary name plates to role-model hospitals and kindergartens, and certificates to charities and volunteers.
Later, experts from different fields gave training to medical staff on topics such as sports and health, mobile terminal, modern pregnancy guidelines and counseling.
Initiated by the All China Women's Federation (ACWF) in 2015, the Chinese Mother Healthy Birth Program was established with the financial support of Chinese tech firm Shenzhen Lamabang.
By producing a publicity-promoting and educational app, the program aims to help more pregnant women obtain convenient and easy access to professional, scientific and practical guidance on maternal and child healthcare.
So far, over 1 million families from across the country have benefited from the program's activities, such as the distribution of free texts, organizing lectures for would-be mothers, holding training sessions for medical workers and carrying out research.
In 2017, the program will extend its publicity and educational coverage to kindergartens in more major cities to further promote children's healthy development.
An organizer representative presents the honorary enterprise citizen medal to Shenzhen Lamabang, a donor of the program. [CWDF]
Volunteers from last year's program receive certificates. [CWDF]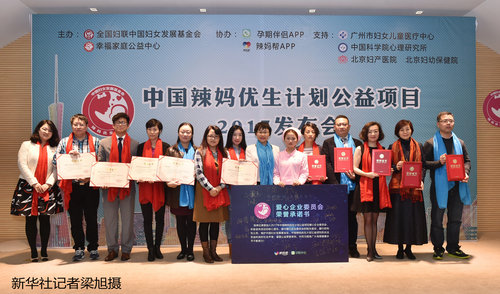 Representatives from members of the Charitable Enterprises' Committee receive certificates. [CWDF]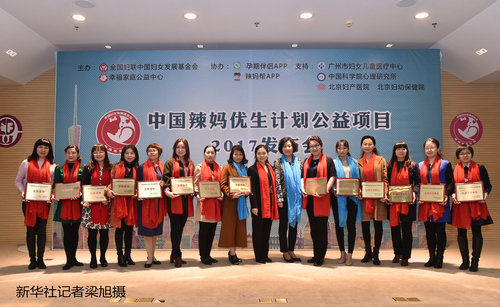 Representatives from district-level demonstration hospitals and educational bases receive certificates. [CWDF]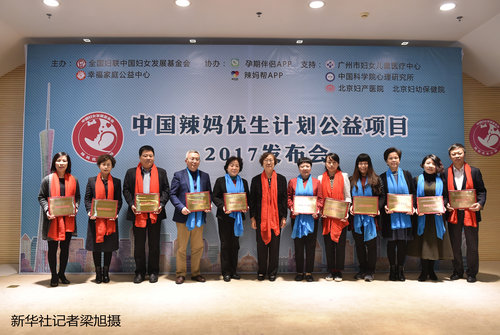 Representatives from provincial demonstration hospitals receive honorary name plates. [CWDF]
Representatives from municipal demonstration hospitals receive honorary name plates. [CWDF]
(Source: CWDF/Translated and edited by Women of China)