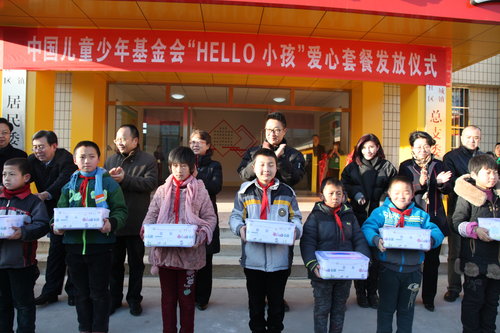 A photo taken on December 26 shows representatives of local children receiving their share of donated items at the distribution ceremony. [Gansu Women's Federation/Cui Juan]
Teenagers from poverty-stricken families in Huan County, Qingyang City in northwest China's Gansu Province, received their share of schoolbags, shoes, diaries, and other gifts from the "Package of Love" in accordance with the "HELLO Kids" initiative at a distribution ceremony held in the county by the China Children and Teenagers' Foundation (CCTF) on December 26.
According to the general arrangement of the "HELLO Kids" initiative, the "Package of Love" concept was officially launched in November 2015, offering daily necessities and learning supplies to impoverished children who have suffered from unexpected accidents or disasters.
"As a former revolutionary base, Huan County and its residents made huge contributions to the development of Chinese revolution in 1930s and 1940s. The CCTF has been dedicated to further improving the lives of local underprivileged children via charity programs, including the 'HELLO Kids' initiative and the construction of children's activity centers," Deputy Secretary-General of the CCTF Zhu Xisheng noted at the distribution ceremony.
With the support of charity-minded businesses, the CCTF will build 10 children's activity centers, which are to be equipped with computers, TVs, books and other materials, and will donate to local teenagers diaries and other daily necessities valued over three million yuan (U.S.$ 462,600) in the following years, according to Zhu.
For her part, Member of the Secretariat and Vice-President of Gansu Women's Federation Zhang Xinlan extended deep gratitude on behalf of the organization to the CCTF for its consistent efforts in assisting local children in both their personal lives and academic studies through the implementation of various charity projects over the past few years.
So far, thousands of target children from Gansu have benefited from the CCTF's multiple public welfare events, such as "Spring Bud School", "Action to Eliminate Anemia among Infants and Children", and others.
Those present at the distribution ceremony were officials from local government, representatives of charity-minded firms, and famous domestic actor Lin Yongjian, who is also spokesperson of the "HELLO Kids" initiative.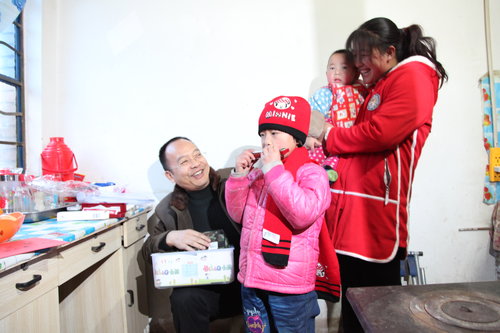 Deputy Secretary-General of the China Children and Teenagers' Foundation (CCTF) Zhu Xisheng (L) visits a poverty-stricken family in Huan County in northwest China's Gansu Province, and sends presents to children from the family on December 26. [Gansu Women's Federation/Cui Juan]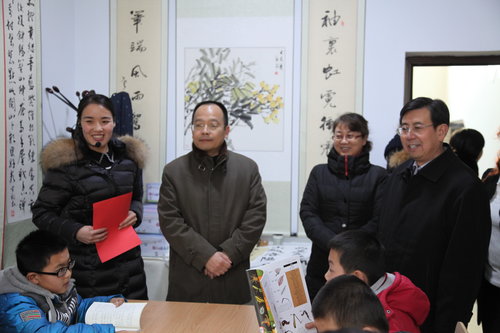 Attending officials at the distribution visit local children at a children's activity center on December 26. [Gansu Women's Federation/Cui Juan]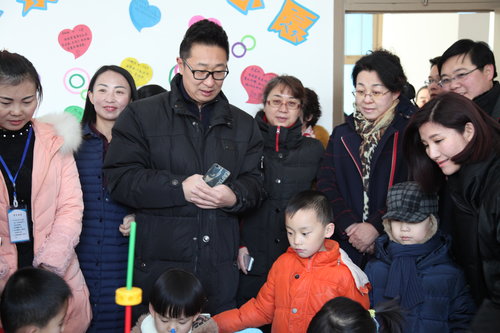 Domestic actor Lin Yongjian (L3), who is also spokesperson of the "HELLO Kids" initiative, visits local children on December 26. [Gansu Women's Federation/Cui Juan]
(Provided by Gansu Women's Federation)