Song Xiuyan (L), vice-president and first member of the Secretariat of the All-China Women's Federation and president of the CCTF, honors Chen Zhongwei (R), general-manager of Hengyuanxiang Group, the Chinese Children's Charity Award: Outstanding Contribution Award. [CCTF]
The All-China Women's Federation (ACWF), China Children and Teenagers' Foundation (CCTF) and Hengyuanxiang Group jointly held a conference to mark the 10th anniversary of Heng'ai Action in Beijing on November 18, 2015.
Over the past 10 years, Heng'ai Action has received 160,000 kgs of knitting wool donated by Hengyuanxiang Group, knitted a total of over 800,000 sweaters for impoverished children and received 740,000 items of clothing donated by all sectors of society, thereby helping 525,000 registered orphans and covering all 31 provinces (autonomous regions and municipals), Xinjiang Production and Construction Groups as well as Hong Kong, Macao and Taiwan. Heng'ai Action, honored as the First Brand Program on Caring for Orphans in China, has become a major charity event attracting large numbers of people with far-reaching and significant influence and was awarded the China Charity Award's "Most Influential Charity Project" for two consecutive years in 2008 and 2009. The Millions of Families on a String in 2014 aimed at implementing the decisions made at the second Xinjiang Work Seminar of CPPCC enabled Heng'ai Action in particular to contribute to national peace, prosperity and power by serving to support the long-term peace and order of Xinjiang. This conference is supposed to further promote the implementation of the Heng'ai Action project: Millions of Families on a String.
Song Xiuyan, vice-president and fist member of the Secretariat of the ACWF and president of the CCTF attended and addressed the conference. In her speech, Song pointed out that over the past 10 years Heng'ai Action has built a platform linking caring parents with children and thereby gathered love from all corners of society through the strength of one string of knitting wool. Practice has proven that the implementation of Heng'ai Action, especially the Millions of Families on a String, is effective in serving long-term peace and order as well as supporting ethnic women and children of Xinjiang. It is a significant practical carrier for women's federations at all levels to serve women, children and the big picture as well as a charity platform for the public to donate and practice the Core Socialist Values. She hoped that people could fully recognize the social significance of the Millions of Families on a String project and strengthen their sense of missions and responsibility. She asked women's federations at different levels to contribute more to the welfare of children in Xinjiang and communication among Xinjiang's women and families by building the project as a carrier. She also asked the CCTF to further organize and implement the activity to promote the ethnic children's happier growth, push forward the development of children`s charities and create social positive energy. She sincerely hoped that all sectors of society could continue to contribute to children's charities by supporting this project.
Zhu Xisheng, deputy secretary-general of the CCTF issued "Proceeding with Love: Final Report on the 10th Anniversary of Heng'ai Action" and the CCTF signed a ten-year cooperation letter of intent with Hengyuanxiang Group.
Representative enterprises, people and groups during the past ten-year Heng'ai Action were awarded the honors. Hengyuanxiang Group was honored the Chinese Children's Charity Award: Outstanding Contribution Award, 31 organizations including Shandong Province Children Welfare Foundation were awarded the Chinese Children's Charity Award: Outstanding Organization Award and 28 people or groups the Chinese Children's Charity Award: Most Beautiful Angel Guardian Award as well as 22 children including Lou Wenli the Most Beautiful Angel Award. Chen Zhongwei, general-manager of Hengyuanxiang Group, Han Lili, director of the Department of Children, Shandong Women's Federation and Deputy Secretary-General of Shandong Children's Welfare Foundation, as well as Zhang Xiao, a reporter from Beijing Evening News and so on represented the awarded individuals, organizations and media, respectively, to tell touching stories about their participation in Heng'ai Action.
One child from Hotan City, Xinjiang said he was surprised to receive a sweater colored and designed with his ethnic characteristics and he thanked the caring mother for her love and meeting him. Lin Huili, representative of the caring parents from Beijing, said that last year they arranged for the caring mothers to knit 16 sweaters for Xinjiang children and entrusted the staff of the Beijing Women's Federation to take them to the children. This year they would continue to do the same. Yang Tao, a staff of SinoPec Group Beijing Branch, also knitted sweaters for the Xinjiang children and said he enjoyed being able to participate in the project and serving the big family by knitting sweaters regardless of profession, gender or status.
Three families form Hotan City, Kezhou and Yili autonomous prefectures in Xinjiang were invited to attend this conference in Beijing and were introduced to three Beijing-based families. The hostesses of the three Beijing-based families dressed the Xinjiang children with sweaters knitted with thick wool. Colors and patterns on the sweaters were specially used to represent the characteristics of the Uygur, Khalkhas and Kazak nationalities. The Xinjiang families gave the scarves with their ethnic features in return.
Chen Xiurong, member of the Standing Committee of the National People's Congress (NPC), vice-president of the NPC Committee for Internal and Judicial Affairs and vice-president of the CCTF, Zhao Donghua, vice-president and member of the Secretariat of ACWF and vice-president of the CCTF, as well as about 200 representatives from the provinces, autonomous regions, municipalities, the Women's Federation of Xinjiang Production and Construction Groups, Women's Federation Committees of Organs Directly Under the CPPCC and China's State Organs, Hong Kong Chinese Redbud Club, caring families and media also attended this conference.
Song Xiuyan addresses the conference. [CCTF]
Zhao Donghua, vice-president and member of the Secretariat of All-China Women's Federation and vice-president of CCTF, awards the honors and prizes. [CCTF]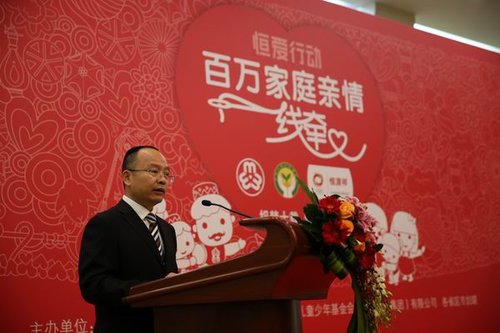 Zhu Xisheng, deputy secretary-general of the CCTF, addresses the conference. [CCTF]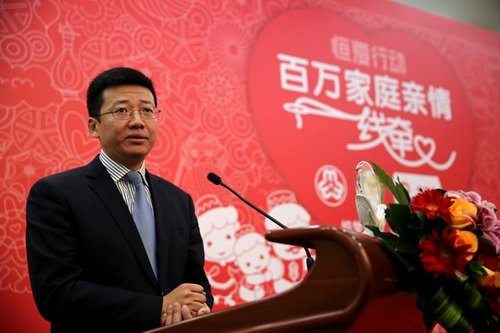 Chen Zhongwei, general-manager of Hengyuanxiang Group, addresses the conference. [CCTF]
Song Xiuyan (L) awards the honors and prizes. [CCTF]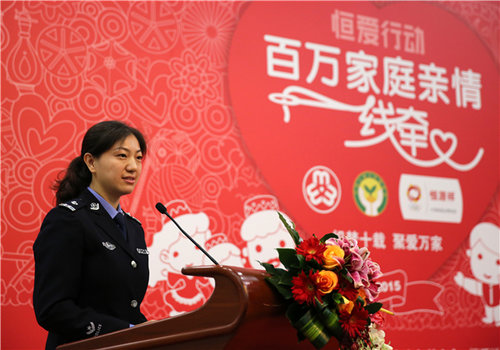 A representative shares her stories at the conference. [CCTF]
(Source: CCTF/Translated and edited by Women of China)