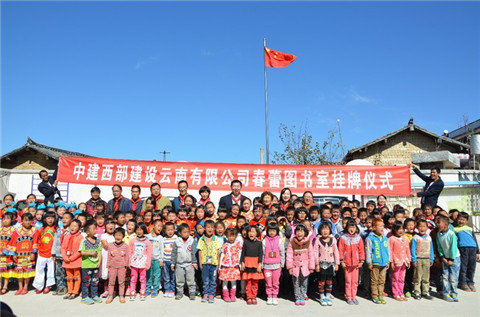 A Spring Bud library opens in a rural primary school in Southwest China's Yunnan Province. [yctf.org]
"Without the Spring Bud project, I wouldn't have received education and lived such a good life," said Ci Yong, a judicial officer in Yanmen, a township in Deqing County, Diqing Tibetan Autonomous Prefecture in Southwest China's Yunnan Province, adding that it was the project that fulfilled her dream of studying and enabled her to be enrolled at a university.
The Spring Bud Project, a program launched by the China Children and Teenagers' Fund, is intended to both help female dropouts return to school as well as improve teaching conditions in poverty-stricken areas.
After graduating from the university, Ci works in the county's Justice Bureau, promoting knowledge on legal affairs in the Tibetan language and helping local people deal with their petitions.
There are many impoverished girls who are eager to go to school like Ci in the mountainous areas in Yunnan. Early in 1997, Yunnan took the lead by enrolling girls covered in the Spring Buds project at a boarding school in its capital city of Kunming with the support of the Women's Federation of Yunnan Province.
Since 2013, the provincial government has subsidized 800,000 yuan (US $112,800) annually to the school, which enrolls 100 impoverished, good girl students every year.
Thanks to the joint efforts of local governments and various walks of life, a total of 1,128 school girls have benefited from the project and 978 have been enrolled at the university. Some of them even furthered their studies and became pioneers in different professions.
Statistics show that more than 40 schools and over 100 libraries have been set up across the province since the launch of the Spring Bud project. About 200,000 school girls completed their studies at school with scholarships and subsidies. To date, the program has covered 129 counties in Yunnan.
The destiny of Pan Yufeng was changed by the program. In August 2001, she was worried about whether she could continue her studies and was then informed that she could study in Kunming without tuition.
She entered Northwest University in Xi'an in September 2004 and became a civil servant after graduating from the university.
"I felt the care of society and grew up happily at school. I will promote the Spring Bud project and pass on the love and warmth to more people," Pan said.
In 2005, Zheng Yuzhen graduated from the Spring Bud Class of Kunming Women's Middle School, and she was enrolled at Jiangxi University of Traditional Chinese Medicine the following year.
"The Spring Bud project helped me regain confidence. I will always remember those who helped me, and I will try my best to give back to society," Zheng said.
(Source: China Women's News/ Translated and edited by Women of China)