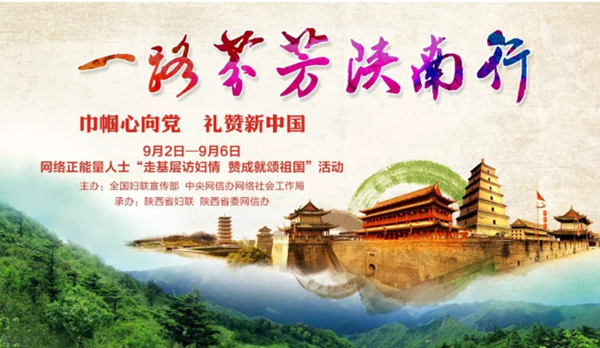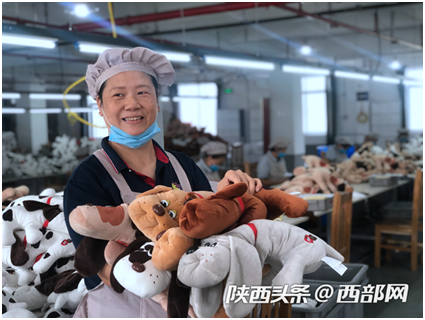 A female worker of a local toy company in Ankang City [cnwest.com]
An activity organized by the All-China Women's Federation gathered representatives of online celebrities or influencers, to visit northwest China's Shaanxi Province where the grassroots women and women's federations showed their efforts in poverty alleviation, rural revitalization and taking care of left-behind children.
The group visited rural areas, communities and workshops during the five-day event, and shared what they had seen on line.
Local Women's Federations Care for Left-behind Children
On the first day of the event, the online influencers visited Furen Middle School in Qingmuchuan Town, a remote area in Ningqiang County, to see the measures taken to care for left-behind children.
"The Women's Federation of Shaanxi Province sponsored Furen School to provide enough activity spaces and facilities to local ruraland left-behind children," said one of the online influencers named Zhu Yi in her blog.
Apart from support for school education, the women's federations of Chihe Town and Shiquan County have built women's and children's homes, where a reading room, physical room, study room and psychological counseling room are all available for children after school.
"The children's home offers so many options. The women's federation has helped local people solve a big problem," commented a netizen.
Women Fight against Poverty and Boost Rural Revitalization
The online influencers also visited local counties and districts to learn about local women's poverty alleviation and rural revitalization efforts.
Zheng E, a disabled woman in Ningqiang County, is now a Qiang embroiderer working at the women's entrepreneurship and employment incubation base in the county.
In 2017, after receiving free embroidery training offered by the county, she made Qiang embroidery an important part of her life, which gave her greater confidence.
"A dozen disabled women learned the craft in the embroidery training class, and they can earn more than 3,000 yuan (US $421.49) a month. The Women's Federation of Ningqiang County has built a platform to help disabled people to stand on their own feet," an online influencer said in a post published online.
In the labor and employment training center of Ziyang County, the network influencers attended training classes on pedicure, housekeeping and cooking for local women. Ziyang County works on targeted poverty alleviation through providing rural villagers with free skills training.
One online influencer commented on Ziyang's mode of poverty alleviation, praising its enabling of women to gain professional ability, become employed and increase their income.
In addition, a stuffed toy manufacturer located in the rural area of Shaanxi's Ankang City attracted the interest of the visitors.
Most of the workers are nearby villagers. The plant provided employment opportunities to left-behind women, so that they could take care of the elderly and children, said Shen Chunyan, head of a hand-crafted workshop.
In order to help impoverished local women work and/or start businesses at home, the women's federation of Ankang City coordinated with communities, enterprises and governmental departments, to provide skills training to local women. This enabled them to escape poverty through employment and to be more able to take care of families.
Female Entrepreneurs Lead Women in Poverty-Stricken Area out of Poverty
Pingli County is located in a special poverty-stricken part of the Shaanxi-Sichuan area. To get rid of poverty, 176 women entrepreneurs in the private sector set up the Pingli County Women's Entrepreneurship Association to help the impoverished women shake off poverty.
One of them, Tian Zhen, started a tea business and developed it for over 10 years. Her tea garden has helped 631 people in 202 poverty-stricken households increase income.
Each member of the association has a targeted poverty-stricken village and certain households to help. Women entrepreneurs work on poverty relief through developing the tea, food and planting industries.
Women entrepreneurs in Ziyang County used online commerce to help farmers sell their crops, greatly increasing their income and alleviating poverty.
"We have an in-depth understanding of the unique role played by the women's federations at all levels in the Shaanxi-Sichuan area in the fight against poverty," said the online influencers. They mobilized grassroots businesswomen in creating more employment for impoverished women.
The five-day event drew great attention on the Internet, attracting over 50 million viewers on social media and live streaming platforms, helping more people know about rural areas in Shaanxi Province and the changes made by the grassroots women's federations to benefit women in rural areas.
(Source: China Women's News/Translated and edited by Women of China)