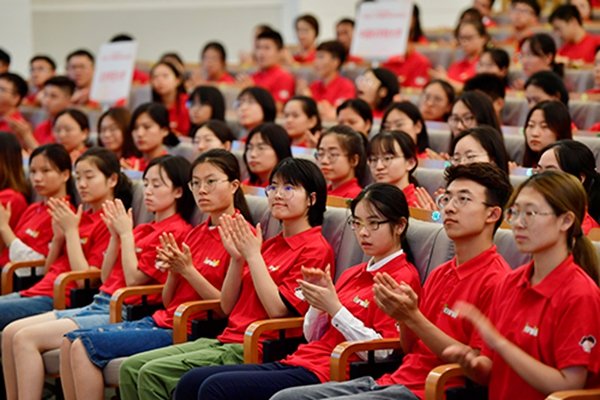 A photo of undergraduate volunteers who will provide caring service to children in rural areas [Women of China]
On July 10, the All-China Women's Federation, the Ministry of Civil Affairs, the National Working Committee on Children and Women under the State Council and the Chinese Communist Youth League jointly launched the campaign "Caring for Children, Serving Society" that gathered undergraduate volunteers from Hunan, Sichuan and Gansu provinces to set up 31 voluntary teams providing care to children of 59 villages in the three provinces.
At the same time, the China Children and Teenagers' Fund launched a voluntary event of caring for children, gathering more than 3,800 students from 410 universities, which would last to the end of August and benefit over 12,000 children.
Women's federations at all levels have gathered social groups and resources to provide various services and activities to children to help them grow up happily.
The Women's Federation of the Inner Mongolia Autonomous Region provides family education support for parents; the Women's Federation of Guangdong Province tries to educate children by organizing safety knowledge activities; and, the Women's Federation of Qinghai Province helps children learn to protect themselves by educating them and their families about safety.
The Women's Federation of Liaoning Province organizes female lawyers to publicize laws and regulations of children's safety protection and provide legal consultations and assistance in women and children's homes; and, the Women's Federation of Hubei Province gathers 142 voluntary teams to go to villages and communities where left-behind children live, raising their awareness of self-protection.
The Women's Federation of Tianjin Municipality organizes 175 Tianjin families to subscribe for items to be presented to impoverished children and households in Qinghai and Gansu provinces; the Shanghai Women's Federation organizes 10,000 impoverished children to participate in a summer camp, encouraging them to learn modern science and technology and strengthening their patriotism; the Women's Federation of Hunan Province holds a series of activities to care for left-behind children in rural areas; and, the Women's Federation of the Ningxia Hui Autonomous Region holds a summer camp for impoverished families, enabling children and their parents to spend the summer holiday together.
(Source: China Women's News / Translated and edited by Women of China)