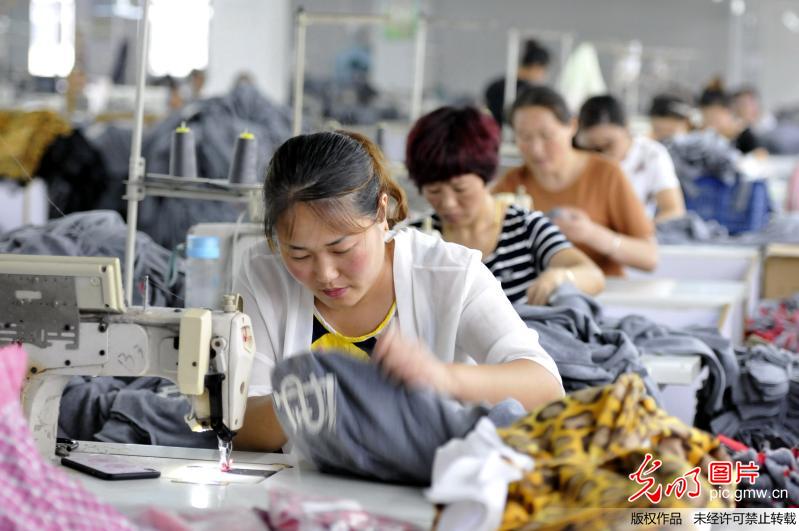 Hebei Women's Federation, north China, vigorously promotes handicrafts production in local areas to propel economic development and help women shake off poverty through the tourist industry. [Gmw.com]
Hebei Women's Federation (HWF), north China, has been vigorously promoting handicrafts production in local areas to propel economic development and help women shake off poverty through the tourist industry recently.
In order to thoroughly implement the arrangements of the Central Committee and Hebei Provincial Party Committee for resolutely fighting poverty, HWF has combined practical and targeted services for impoverished women, according to an announcement.
In particular, HWF has established the Craftswomen's Workshop initiative.
In 2016, HWF built a special crafts studio in Jingshankou Village of Laiyuan County. The attraction has received over 20,000 guests from across the country, selling over 3,000 items, and lifting over 1,200 women out of poverty.
Last year, along with the 2nd Provincial Tourism Development Conference, a similar workshop established in the ancient city of Shanhaiguan in Qinhuangdao has helped nearly 30,000 women engage in crafts-related industries.
Up till now, the province has established 151 workshops, 60 of which are built on tourist sites, creating over 120 characteristic handwork tourism brands in the province; established 800 poverty alleviation demonstration bases; and, led over 10,000 people to find employment.
Last year, HWF invested 1.2 million yuan to prepare for the construction of a big data platform for handmade tourist products to promote the standardization of production and sales by analyzing data, and helping local women shake off poverty through family handicrafts.
With the help of the local women's federation, Yan Guiwei, an entrepreneurial leader and expert in Manchu embroidery, set up an online workshop to conduct free embroidery technical training for over 1,000 so-called "left-behind" women in seven key poverty-stricken areas in Chengde city.
A total of 75 poverty-stricken households in rural areas have been affected, and each received poverty alleviation dividends of 1,200 yuan in 2017.
HWF also joined the provincial supply and marketing cooperative of an e-commerce platform to jointly create more online workshops.
The platform provides free registration, distribution, promotion, and transaction for entrepreneurial products and projects, and forms an online and offline link to help 8,910 women sell craftsmanship tourist products online, and benefit 120,766 female entrepreneurs and staff members in total.
The province also relies on the workshops to carry out training to motivate women to shake off poverty.
Furthermore, HWF arranged special funds for trainings; organized crafts experts to hold on-site teaching courses at the workshops; and, encouraged female talents and leading enterprises in the provincial handicrafts industry to launch activities to pass on the skills.
(Source: Cnwomen.cn/ Translated and edited by Women of China)