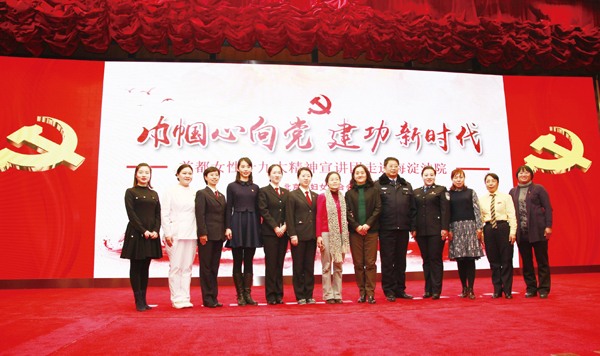 Representatives from Beijing Women's Federation conduct a communications activity in Haidian District. [Fnews.cc]
Beijing Women's Federation (BWF) has thoroughly studied and set up reform and innovation mechanisms in a timely manner since 2012, and implemented reform in various tasks, according to the latest announcement.
November 2012 marked the convening of the 18th National Congress of the Communist Party of China (CPC), where many of the relevant aims and directives were issued.
In order to further enhance the political nature of women's federations, strength their ideological and political guiding functions, and highlight Xi Jinping Thought on Socialism with Chinese Characteristics for a New Era, BWF has actively carried out various publicity and education activities.
In recent years, BWF has held multi-level meetings, carried out diverse training and activities, and run publicity activities in 16 districts.
For example, the federation has formed a group to spread the spirit of the 19th CPC National Congress, which has reached over 12,000 people. In addition, over 3.5 million people have been engaged through channels such as live broadcasting.
BWF has fully implemented the key reform tasks proposed by the All-China Women's Federation (ACWF), and completed the regionalization of the women's federations in townships and at sub-district levels.
According to data, the number of executive committee members of women's federations in townships has increased to 8,819; the number in communities has increased to 44,184; and, 3,734 women's councils in the villages have been reformed into women's federations.
A total of 51,233 executive committee members have been recruited into village-level women's federations, of whom 3,709 are presidents and 7,854 are vice-presidents or part-time vice-presidents.
BWF has set up a total of 1,028 women's organizations in Party and government organizations and institutions, and 1,410 in non-public economic organizations.
BWF also regularly cooperated with the municipal finance bureau, the organization department and social work commission of the municipal Party committee, and the municipal civil affairs bureau.
Together, they issued a document on further strengthening the development of grassroots women's federations, to enhance the training and guidance for grassroots women's federation officials.
In order to make full use of the role of women's federation in reaching members of the general population, BWF has appointed a leadership team, in which members were selected from the outstanding female officials in the city.
BWF also optimized the structure of part-time vice-presidents, so that they can better perform their duties with professional experts by coordinating with each other.
In accordance with the requirements of the reform, BWF has restructured and established the grassroots organization department, which was the only department of its kind among women's federations nationwide.
The federation has required officials in urban areas to conduct investigation in rural areas and communities for at least one month each year, so that they can better play the role of promoters, researchers and serve society.
Meanwhile, BWF has effectively enhanced the influence of women's federations in the era of new media. It has established a new "Internet plus women's federations" work pattern to provide online and offline services.
At present, the women's federations in the city have over 3.2 million followers on their new media accounts.
BWF has also launched over 400 courses on the Capital Women Lifelong Learning Platform, and registered 55,000 users.
The results of online women's work achieved by BWF have been fully affirmed by the relevant leaders of the central government.
BWF has further promoted the specialization of new media operations, the innovation of traditional media communications and the official authority of media platforms, and made full use of the unique role of the internet and new media in uniting women.
In addition, BWF has improved the women's representative contact system, designating 750 representatives of 29 groups to establish a comprehensive coverage network based on different industries and regional characteristics.
BWF has implemented institutions that have promoted discussions, activities, reporting, research and training, and further expanded their contact with women.
Visitors attend the 2018 Women and Children Public Service Expo in Beijing. [Fnews.cc]

(Source: Fnews.cc/ Translated and edited by Women of China)