Zhao Haiying and Wang Qiu sign a cooperation memorandum. [Beijing Women's Federation]
Beijing Women's Federation (BWF) held a signing ceremony on June 29 to strengthen strategic cooperation with the makers of a local radio show, Diary of Women's Growth in New Era.
Zhao Haiying, member of the Party group and vice-president of BWF, inked a cooperation memorandum with Wang Qiu, chief editor of Radio Beijing Corporation (RBC), to officially launch the program.
Diary of Women's Growth in New Era will help the federation deepen its publicity work on mainstream media and focus on the use of the radio station's strengths, said officials.
Wang added she hoped the program can concentrate on women, children and family education and RBC will explore long-term partnerships and allow the voice of women's federations, experts and scholars to reach a mass audience.
Cai Shumin, Party secretary and president of BWF, said the signing ceremony was a good commencement for the two parties to establish a long-term, strategic partnership.
She also put forward suggestions regarding the initiative.
"First, we must strengthen our creativity on showing features of women in the new era through this program by reporting warm and inspiring content to help women evolve.
"Second, we must follow the trend of media convergence to extend the influence of programs through various forms, so that we can effectively integrate special programs, new media platforms and offline activities and build an interactive platform between the federation and the public."
"In addition, we have to develop the advantages of both parties to realize a win-win cooperation," said Cai.
At the ceremony, Zhang Xiaoyuan, director-general of the Publicity Department of the All-China Women's Federation, expressed congratulations to the organizers on the broadcast of the program.
She also commented the program as a new achievement of BWF to strengthen cooperation with the mainstream media and an innovative move to promote the ideological work of the federation.
She further extended her hope that the work would adhere to the political nature of the federation, strengthen leadership, and continue to advance with innovations to lead all departments to work together to carefully plan and build the brand.
With the rapid development of the internet, concerted efforts should be made by the federation alongside mainstream media, commercial media and online celebrities, to rationally analyze the current situation and constantly improve shortcomings, said Zhang.
At the ceremony, industry experts and audience representatives also took part in a discussion on women, children and family work, and expressed views on how to convey the voice of the federation through the show.
Guests at the event [Beijing Women's Federation]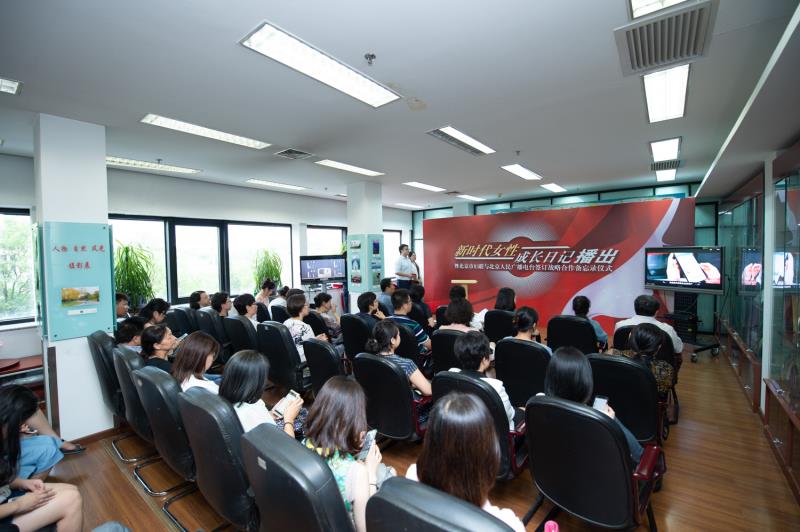 Attendees at the event [Beijing Women's Federation]
Experts receive certificates of appointment at the ceremony. [Beijing Women's Federation]