The women entrepreneurship salon, titled Tech 2.0: Women's Era [Women of China/Zhang Yuan]
The Beijing Women's International Exchange Center and Lean In China jointly held a women's entrepreneurship salon, titled Tech 2.0: Women's Era, on September 13 at Techcode headquarters in Beijing.
Under the guidance of Beijing Women's Federation, the event, as a significant project to facilitate female development, aimed to assist women in their entrepreneurship and innovation and motivate them to fulfill their goals of self-realization and increased social value.
Chen Yuxin, co-founder of She Loves Tech and co-founder and president of Lean In China, delivered a speech at the opening ceremony.
Highlighting the future trend of investing in women, she hoped to provide tech companies, investors, enterprises, entrepreneurs and consumers with a global stage, to facilitate public focus on female leaders in tech sectors and technologies and use technologies to serve women.
At the event, Chen spoke on the theme of "female tech" along with Li Liyan, Israeli business manager with She Loves Tech; and, Zhang Yu, CEO of Beijing Operation Center of China-Israel Biotechnology Company.
Li pointed to an increasing number of female senior leaders who are courageous to deal with risks and challenges around the world.
Meanwhile, Chen said China's entrepreneurial environment nowadays has greatly improved and provided women with more opportunities.
According to the Hurun Global Rich List, about 80 percent of female billionaires who started from scratch came from China.
Additionally, Zhang noted that with the high-paced social development, women had difficulties in starting up businesses regarding the needs of technique and energy. She said, compared with men, women were better at interpersonal relations.
Zhang further reinforced the significance of women's development, saying "the success of women is China's success".
According to organizers, in the context of the Belt and Road Initiative, the Beauty of Entrepreneurship series of activities aimed to set up a platform for women from the general population to promote international exchange and cooperation, facilitating experience sharing, strengthening female forces with the advance of science and the economy, motivating women's technical innovation and providing them with support and backup.
Under the guidance of the Beijing Women's International Exchange Center and the national-level incubator Northern Territory, She Loves Tech is a global action jointly founded by Lean In China and TechRock.
The action aimed to showcase the convergence of the latest trends in technology, entrepreneurship, innovation and its impact on and opportunities for women.
The 2017 She Loves Tech Global Startup Competition was held on September 16 in eight countries and regions (Canada, China, south China's Hong Kong Special Administrative Region, Germany, Indonesia, Israel, Pakistan, and Singapore), making it the largest contest on female tech entrepreneurship so far.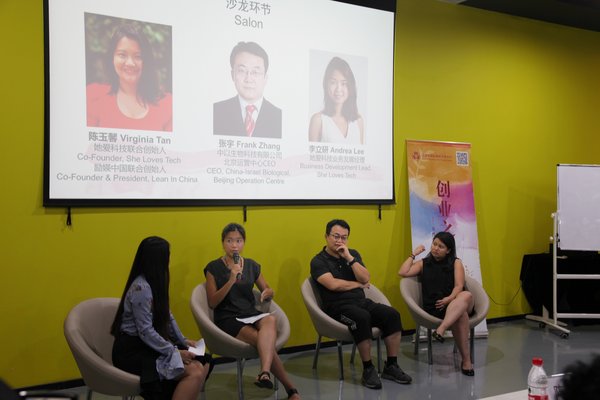 The women entrepreneurship salon, titled Tech 2.0: Women's Era [Women of China/Zhang Yuan]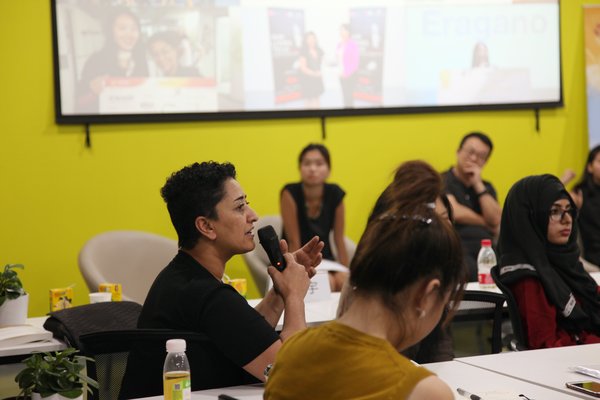 The women entrepreneurship salon, titled Tech 2.0: Women's Era [Women of China/Zhang Yuan]
(Women of China)