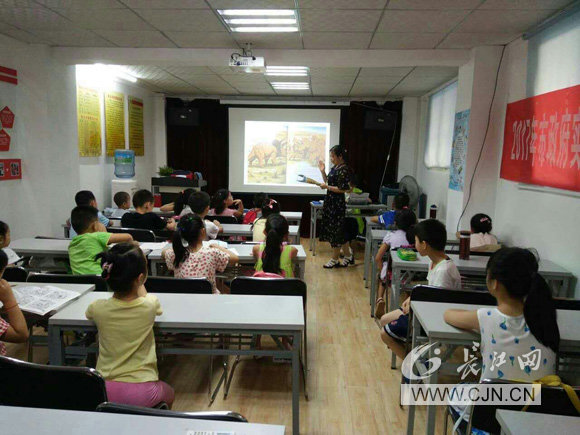 A volunteer of the project called Story Tribe for Lovely Kids tells a story to children in Wuhan. [news.cjn.cn]
Wuhan Women's Federation in central China's Hubei Province has in recent years organized a volunteer team to tell stories to young children in communities across the city, winning widespread praise.
The project, called Story Tribe for Lovely Kids, took its inspiration from an idea proposed by Xu Li, president of the municipal federation, in May 2016.
Officials initially recruited some 60 volunteers in 10 days, including the program into its female volunteer service management scheme and utilizing publicity from local media organizations as well as online.
After interviews, professional training and trial lectures, 45 citizens joined the first batch of volunteers.
During the summer vacation in 2016, they went to 20 communities across seven districts, shared some 100 illustrated stories with children and led them to play various creative games.
Later, the municipal women's federation set up a volunteer service center for children and trained 60 more volunteers in 2017.
Officials also developed specific lectures for children's reading and growth and included such courses into the organization's family education project, extending their service coverage and benefiting even more youngsters.
The team nowadays consists of people from different sectors of society, such as professors, writers of children's literature, senior managers, military officers, civil servants, housewives and students.
Zheng Jian, a renowned children's literature writer in Wuhan, voluntarily contacted the federation to join the project. He said it was his obligation to promote reading and kindle children's passion for literature.
Volunteers said the service has not only benefited others but also enriched their own lives.
(Source: China Women's News/Translated and edited by Women of China)