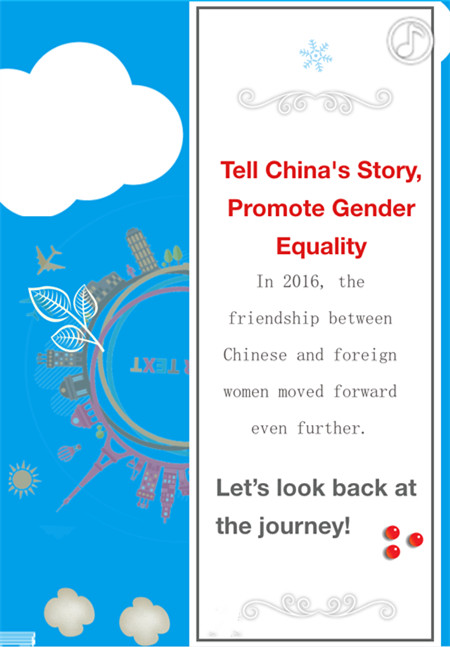 The H5 presentation titled 'Tell China's Story, Promote Gender Equality' [International Liaison Department of ACWF and ACWF Network Information Center]
In 2016, the friendship between Chinese and foreign women moved forward even further. Let's look back at the journey!

Join Hands to Complete the Grand Achievement

From May 24-26, the 2016 W20 Meeting was successfully held in Xi'an under the theme "Equal Participation and Innovative Development." As a major supporting activity of the G20 Summit, W20 submits its outcome document to G20 Hangzhou Summit.

Work Together to Fulfill a Great Promise

During the 60th Session of the Commission on the Status of Women, the ACWF and the host countries of previous World Conferences on Women co-organized a high-level meeting "A Renewed Commitment to Action: Translating Gender Equality and Women's Empowerment Commitments into Results for 2030 Agenda for Sustainable Development", so as to implement the commitments of Global Leaders Conference on Gender Equality and Women's Empowerment in 2015, and to speed up the achievement of goals on gender equality.

Implementing President Xi Jinping's commitments in his remarks at the 2015 Global Leaders Conference on Gender Equality and Women's Empowerment, and increasing support for women's capacity building in developing countries
— Workshop on Practical Skills Training for Women of Lancang-Mekong Countries;
— China-Latin America Women's Seminar on Women's Participation in Economic Development and Innovation.
Remarkable Achievements Made in Extensive Exchange under National Exchange Mechanism

In 2016, exchanges between Chinese women and their counterparts from the U.S., EU, France and Russia, as well as the APEC members under national exchange mechanisms, made remarkable achievements.

China-U.S.: The China-U.S. Women Entrepreneurship Seminars were co-hosted in Wuhan and Beijing respectively by ACWF, the Office of Global Women's Issues under U.S. Department of State, and the Embassy of the U.S. in China. The event under the4 China-U.S. People-to-People High-Level Consultation aimed to encourage sharing of ideas and practices in improving women's leadership and female entrepreneurs' pioneering spirit.

China-France: The 3rd Session of the China-France High-Level People-to-People Dialogue included gender equality principle into the Declaration. The first China-France Gender Equality Seminar on the theme of "Gender Equality and Law" took place in Paris.

China-EU: Meng Xiaosi, Vice President and Member of the Secretariat of ACWF, met EU Commissioner for Justice, Consumers and Gender Equality Věra Jourová, deepening China-EU women's exchange and cooperation under the China-EU High-Level People-to-People Dialogue.

China-Russia: Diversified Activities carried out by China-Russia Committee on Friendship, Peace and Development
— Chinese women entrepreneurs attended the Vladimir Economic Forum;
— China National Children's Center art troupe attended the Russian Golden-Ring International Folk Art Festival;
— Attending Women's Dialogue — Infinity Charity Forum.

APEC Women and the Economy Forum

High-Level Meetings Deepen Friendship

Shen Yueyue, Vice Chairperson of Standing Committee of the National People's Congress and President of ACWF, met Hermine Naghdalyan, Deputy Speaker of the Armenia National Assembly.

Song Xiuyan, Vice President and First Member of the Secretariat of ACWF, met:
— Wife of the Prime Minister of Sri Lanka
— First Lady of the Republic of Mozambique
— First Lady of the Republic of Congo
— First Lady of the Republic of Guinea
— Mauritian Minister of Gender Equality, Child Development and Family Welfare

Leaders of ACWF met the delegation of the Korea-China Association for Women's Exchanges.

Leaders of ACWF visited Turkmenistan and Germany.
Leaders of ACWF stated China's proposals in promoting children's development at the High-Level Meeting on Cooperation for Child Rights in the Asia Pacific Region.

ACWF Leaders:
— Meeting a women's delegation from Thailand
— Visiting Romania
— Meeting officers in charge of family and women's affairs from six African countries

Leaders of ACWF met foreign delegations attending the 1st Women's Forum of Countries Along the Silk Road:
— Women's Delegation from Iran
— Women's Delegation from Zimbabwe
— The 1st Women's Forum of Countries Along the Silk Road

Learning from Each Other to Promote Common Development

With UN Women and the UNFPA: Promoting multi-sectoral cooperation to combat domestic violence

With UK: Advancing entrepreneurship and employment of female university students and small and micro female entrepreneurs

With France: Holding the 2nd China-France Anti-Domestic Violence Seminar

With Australia: Carrying out a study tour on anti-domestic violence intervention

With International Organization for Migration: Raising awareness on the risks of trafficking for "left-behind" children

With UNICEF: Carrying out a child protection program in local communities

With the UN Economic and Social Commission for Asia and the Pacific: Holding a seminar on gender-responsive budgeting

With the U.S. LDS Charities: Donating wheelchairs for physically-impaired women

In 2016, ACWF joined hands with women from various countries to promote peace, development and equality as well as friendship, cooperation and win-win situations.

In the new year, ACWF will continue to stay true to its mission and move ahead.

(Provided by International Liaison Department of ACWF and ACWF Network Information Center)
Please understand that womenofchina.cn,a non-profit, information-communication website, cannot reach every writer before using articles and images. For copyright issues, please contact us by emailing: website@womenofchina.cn. The articles published and opinions expressed on this website represent the opinions of writers and are not necessarily shared by womenofchina.cn.