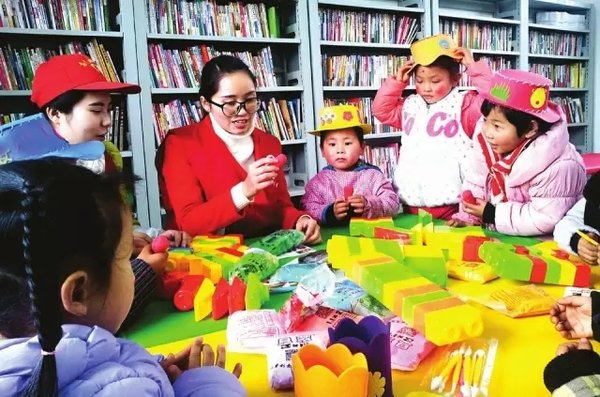 Two women play with young children. [Women Voice]
Staff members of women's federations and other related female-centered departments said that they have had a deeper understanding of their future work after learning of Chinese Premier Li Keqiang's remarks in a speech delivered at the sixth national working conference on women and children held on November 18.
Remarks from Sun Huichuan
"Premier Li's remarks have pointed out the way to promote the development of women and children for regional departments in different parts of the country," said Sun Huichuan, deputy-director of the National Bureau of Quality Inspection.
Sun stated that the National Bureau of Quality Inspection has attached much importance to its supervision of a national standard for women and children's daily articles in the past few years. Specifically, a national standard for toys and seat belts has been made to protect young children, Sun added.
Meanwhile, a standard for producing middle and primary school uniforms has also been formulated, Sun noted. Moreover, workers from the National Bureau of Quality Inspection have sampled some women and children's items including toys, clothes and sanitary towels every year for examination so as to better care for their health.
Remarks from Lao Hongwu
"After attending the meeting, I am more aware of the efforts made by the Communist Party of China (CPC) Central Committee and the State Council to support the advancement of women and children's undertakings in the nation over the past five years," noted Lao Hongwu, president of the women's federation in east China's Zhejiang Province.
Remarks from Zhang Tianwen
As deputy-director of the Department for Female Workers of the All-China Federation of Trade Unions, Zhang Tianwen pointed out that it is a very tough task to protect the female staff members' rights and interests in current times.
Moreover, Zhang also expressed her hope that national laws and regulations on the protection of women's rights would be further improved and more endeavors would be made to support law enforcement, especially after the implementation of the two-child policy.
Remarks from Cheng Lihua
"Premier Li's speech gives me confidence in the engagement of women and children's affairs. At the same time, I feel it is a great responsibility and arduous task for me and my work," said Cheng Lihua, deputy-governor of northwest China's Qinghai Province.
Cheng, who also serves as director of the Qinghai Working Committee on Children and Women, revealed that related women and children's affairs would be incorporated into the province's financial budget and would constantly carry out poverty-alleviation campaigns to help those people.
Remarks from Sun Yongbo
"The great progresses made by the provincial working committee on women and children have a close connection with the female staff members of the organization," concluded Sun Yongbo, vice-governor of northeast China's Heilongjiang Province.
Sun, who also serves as director of the Heilongjiang Working Committee on Women and Children, suggested that more female cadres should be cultivated, especially those in rural villages.
Two women look at children's articles in a shopping mall. [Women Voice]
Young children are presented with school supplies. [Women Voice]
Attendees take part in an event about women's entrepreneurship. [Women Voice]
(Source: Women Voice/Translated and edited by Women of China)