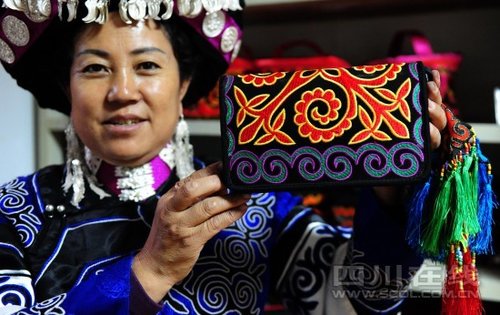 Jiaba Zize displays her new embroidery product. [Sichuan Daily/Heng Changhui]
The women's federation in Liangshan Prefecture, southwest China's Sichuan Province, has helped to build embroidery training and display bases in recent years to add to the incomes of the local Yi ethnic minority women.
Located in the province's southwestern region, Liangshan boasts the largest number of Yi ethnic people in China. As 70 percent of locals live in mountains and valleys with poor transport, some 90 percent of women have a narrow means of gaining income, owing to low education levels and local customs, and the area is home to some 833,000 impoverished women.
In view of the fact that the poverty covers a wide region and is difficult to alleviate, the local women's federation has set up a flexible employment promotion plan. They have developed more than 20 types of Yi handicrafts, including Yi embroidery, cross stitch, silver ornaments and textile skirts. Under the assistance, many local wives of migrant workers, as well as unemployed and disabled women have managed to shake off poverty.
With the guidance and leadership of women's federations at different levels, several other plans have also been implemented in the prefecture to cultivate skilled embroiders and offer financial and innovative support to willing female entrepreneurs.
In recent years, two female business starters Jiaba Zize and A Niu A Xia have stood out and their companies have become major flexible employment demonstrative bases to help promote the development of embroidery and lead women to achieve entrepreneurship and find employment.
Jiaba Zize, 51, an inheritor of Yi embroidery, established a Yi traditional costume company in 2012. Under the support of the local government and women's federation, her business has developed fast and steadily. She has also set up a Yi embroidery training center and a prefecture- and municipality-level demonstrative base on her premises.
The company and women's federation in Xichang City jointly set up a training center in 2014, where 22 Yi women learned design, tailoring and embroidery skills. To date, the center has trained 300 embroiders of different levels.
Under the coordination of women's federation in Xichang, the center has also forged alliances with colleges and research academies to better protect Yi embroidery and promote its innovation and development.
In the workshop, one reporter met a 38-year-old worker named Ji Zuo. She said her husband works far away and she must send her two children to and from school herself. "In the company my work is flexible and when I do not know how to do, President Jiaba Zize will teach me," she said. "I can earn about 3,000 yuan (U.S.$455) a month here and I am quite satisfied with my work."
Tang Xuelian, president of the women's federation in Xichang, said there are 12 fixed workers in Jiaba's company, with the monthly salary at 2,200-3,400 yuan (U.S.$330-520). There are also 48 women working at home, with a monthly income of 500-2,000 yuan (U.S.$75-300). In addition, about 1,500 Yi women in nearby townships fetch embroidery work to do at home, too.
So far, Liangshan Prefecture has cultivated more than 6,000 female embroiders at primary levels and more than 100 at intermediate levels. In addition, three prefecture-level and 15 county- and municipality-level demonstrative bases have been established. The number of women embroiders have risen from 500 to 31,600, with their annual incomes increasing from 1,000-15,000 yuan (U.S. $150-2,280) to 12,000-50,000 yuan (U.S. $1,820-7,600).
Furthermore, women in some 20,000 rural families have found employment near there home and increased their incomes, and a Yi embroidery artistic brand Yi Zhen Yi Xian has been created, laying a solid foundation for the embroidery industry to enter the international market.
In 2015, the Party committee and government of the prefecture established a development plan on the next steps for the Yi embroidery industry, offering it more support.
Ma Yanling, president of the women's federation in the prefecture, said that in 2016 they will take Yi costumes as the flexible employment program for targeted poverty alleviation among women. "We will strive to expand the influence of its brand, promote the traditional culture to the outside world, and bring it to wider international markets," said she.
(Source: China Women's News/Translated and edited by Women of China)