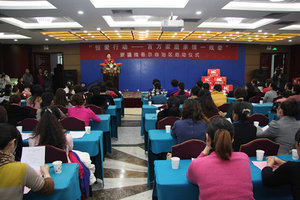 The Xinjiang Women's Federation launches the Heng'ai Action in Shihezi City, northwest China's Xinjiang Uygur Autonomous Region, on November 13, 2014. [Xinjiang Women's Federation/Sui Jian]
A ceremony was held by the Xinjiang Women's Federation in Shihezi City, northwest China's Xinjiang Uygur Autonomous Region, on November 13, 2014 to officially launch the Heng'ai Action.
The charitable program aims to organize charity-minded women to make clothing from donated raw materials for underprivileged children, in particular physically disabled children.
At the ceremony, the Shihezi Women's Federation and the Xinjiang Association of Mutual Assistance amongst Mothers were respectively presented with 400 and 100 kilograms of knitting wool from Shanghai-based Heng Yuan Xiang Garment Ltd., which has donated 5,750 kilograms of wool to the region since 2006.
Meanwhile, President of the Xinjiang Women's Federation Hasiyeti • Aili, Vice-President of the Xinjiang Women's Federation Reyiman • Ku'erban and officials from Shihezi Municipal Government distributed the donated wool to representative women, and knitted clothing for poverty-stricken children at the ceremony.
Beneficiaries of the activity presented artistic shows to demonstrate their thanks to donors, while representative women vowed to participate closely in the program.
So far, 61,700 pieces of clothing have been raised for more than 60,000 physically disabled and other underprivileged children.
In attendance of the launch ceremony were officials from local women's federations and representatives of charitable women's and physically disabled children's organizations.
The Heng'ai Action, established in 2005 by the China Children and Teenagers' Fund and the Hengyuanxiang Group, is a public knitting campaign designed to provide warm winter clothing to impoverished children across China, many of whom are forced to face the long, cold winter still wearing their light summer clothing. This initiative appeals to the public through the medium of women's federations and foundations in various regions and calls on the public to knit sweaters for disabled children and orphans. More than 600,000 children have received home-knitted sweaters from loving parents in 30 or more provinces, municipalities and autonomous regions.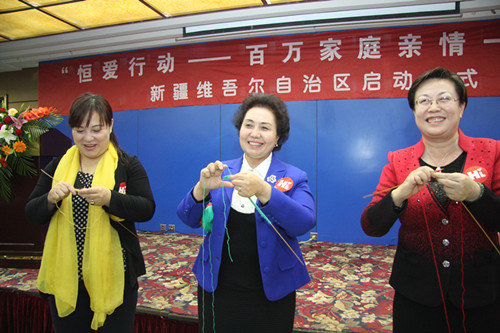 President of the Xinjiang Women's Federation Hasiyeti • Aili (C) knits a piece of clothing for underprivileged children at the launching ceremony. [Xinjiang Women's Federation/Sui Jian]
President and Vice Secretariat of the Xinjiang Women's Federation Hasiyeti • Aili (2nd from R) talks with a child at the launching ceremony. [Xinjiang Women's Federation/Sui Jian]
(Provided by Xinjiang Women's Federation/Translated by Women of China)