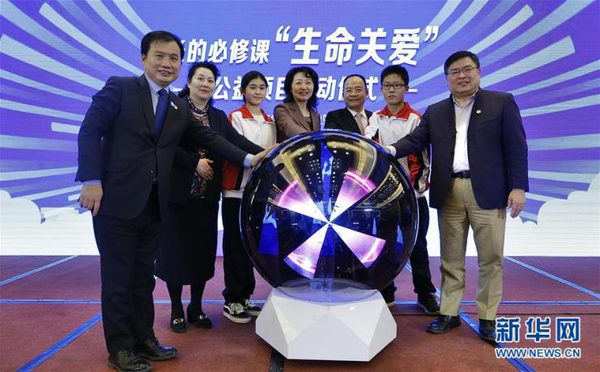 The China Children and Teenagers' Fund and Yingke Law Firm launch a charity project of preventing school bullying on December 12, in Beijing. [Xinhua]
A charity project aiming at preventing school bullying was launched on December 12, in Beijing.
According to the project, educational activities on different themes such as life issues, psychology, anti-bullying, safety, legal affairs and family will be carried out in schools, communities and families nationwide.
In the next five years, the project is expected to cover 1,000 primary and secondary schools nationwide, bringing benefits to one million pupils and secondary school students and their families. Professional legal volunteers will help children who have suffered from bullying and their families with legal support.
Psychologists will offer care and counseling to those children and any others with behavior problems. More efforts will be made to prevent sexual abuse of girls and ensure protection of their rights and interests.
The project was launched by the China Children and Teenagers' Fund and Yingke Law Firm.
At the launching ceremony, Shao Shougang, a lawyer of Yingke Qingdao Law Firm, shared his thoughts on carrying out the anti-bullying training he has conducted over the years. He called on more participation of legal practitioners and concerted efforts of the government, schools, families and society in preventing school bullying and the healing process after school bullying has occurred.
Kou Yu, a professor at the School of Psychology at Beijing Normal University, explained what teachers and parents can do to give children more help in life education and improve their mental health.
Teachers from Yiyang Road Primary School in Qingdao City, East China's Shandong Province, shared the school's responsibility and role in preventing bullying on campus.
Student representatives of the school offered their understanding of "school bullying" after the training, and shared their experiences in fighting against it.
(Source: China Women's News/Translated and edited by Women of China)