Shen Yueyue (L2) talks with the local women. [China Women's News]
Shen Yueyue, Vice-Chairperson of the Standing Committee of the National People's Congress and President of the All-China Women's Federation, recently visited the Xinjiang Uygur Autonomous Region in Northwest China.
Shen met with local women residents from various ethnic groups, grassroots women officials and representatives of the families awarded the title of "Most Beautiful Families of China", and learned about their needs and expectations.
Eight local women officials from women's federations delivered speeches at a meeting with Shen, who highly appreciated the positive results the local women's federations have achieved. Shen stressed that local women's federations should unite all women from various ethnic groups to contribute to social stability and development.
Shen said families are the important foundation for stability and unity and for the important work of the women's federations. Women's federations should strengthen the sense of responsibility and carry out the Family Happiness and Safety Program and other regular activities, including "Looking for the Most Beautiful Families" and "Ethnic Groups Unite as One Family".
Shen noted that women's federations at all levels are required to make great efforts in the two major issues of stability and development.
Specifically, she called for cultivating local women's healthy lifestyles, improving their overall qualities and enriching their lives.
Shen also focused on improving local women and children's livelihoods and their sense of happiness through poverty alleviation, protecting women and children's rights and interests, and carrying out public welfare programs such as Operation Smile (a project helping children with cleft lips receive free operation and treatment), the free cervical and breast cancer screening program and the Spring Bud Project (which helps dropout girls go back to schools or receive better education).
Women's federations are required to support women as the builders of beautiful families and to celebrate the 70th anniversary of the founding of the People's Republic of China with excellent work.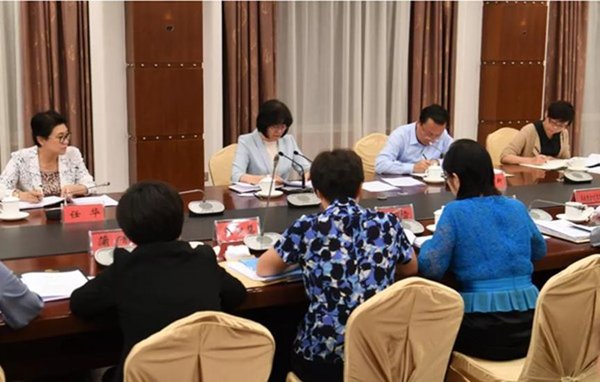 Shen (L2, back) attends the meeting in Xinjiang Uygur Autonomous Region. [China Women's News]
(Source: China Women's News/ Translated and edited by Women of China)