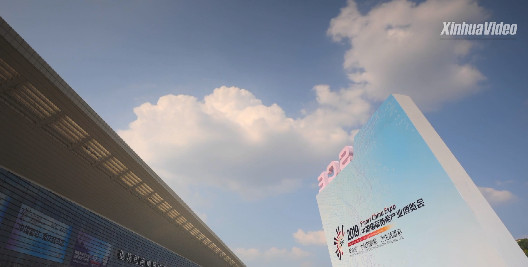 Click the photo to watch the video.
With a booming intelligent manufacturing sector and an ever-growing market for smart products, China is offering immense possibilities for producers worldwide.
The 2019 Smart China Expo, lasting from Monday to Thursday in southwest China's Chongqing Municipality, has attracted representatives including heads of international organizations, academics and business leaders from nearly 60 countries and regions, and more than 800 domestic and foreign enterprises.
During the expo, multiple British enterprises have signed a series of cooperation deals with governmental departments and firms in Chongqing. The agreements, valued at about 100 million yuan (14 million U.S. dollars), cover a wide range of fields including cloud services, big data, smart finance, science and technology education and urban planning.
As the country of honor at the expo, Britain has sent the largest-ever business delegation to Chongqing, with representatives from more than 40 organizations and enterprises.
British Minister for Investment Graham Stuart said the expo is a great platform for British businesses and organizations to strike up new partnerships and exchange ideas.
Photo taken on August 25, 2019 shows the Chongqing Pavilion at the 2019 Smart China Expo in southwest China's Chongqing Municipality. [Xinhua/Wang Quanchao]
At the expo, a series of memorandums of understanding (MoU) were inked between Chongqing and Singapore to boost bilateral cooperation in the digital economy. The agreements cover a range of sectors including an augmented reality education system for preschools, intelligent manufacturing market development and artificial intelligence research.
Among the MoUs, Singapore Telecommunications Limited will cooperate with China's top three telecom operators — China Mobile, China Unicom and China Telecom — to improve data connectivity between Chongqing and Singapore.
Tan Kiat How, CEO of Infocommunications Media Development Authority of Singapore, said with rich experience in building and operating a smart city, Singapore is ready for more cooperation with China in the intelligent sector.
Golden opportunities in western China
In the Italian pavilion of the expo, chips produced by STMicroelectronics attracted many curious visitors. Dawm Lam, digital and marketing manager of Power Discrete and Sub Analog, Asia Pacific, said these newly developed chips will be used in scenarios including intelligent factories and autonomous driving.
STMicroelectronics will further explore the market in western China, as well as areas along the Belt and Road, according to Dawm Lam.
Japan's Kawasaki Heavy Industries demonstrated its industrial robots which can skillfully equip auto parts onto vehicles. Zhou Na, the deputy supervisor of the sales department of Kawasaki (Chongqing) Robotics Engineering Co. Ltd, said these robots will be put into mass production next month.
"We will be able to produce 2,000 robots every year, and many of these products will be sold to nearby provinces including Sichuan and Guizhou," Zhou said.
A girl visits the Smart China Expo in Chongqing, southwest China, August 25, 2019. [Xinhua/Wang Quanchao]
In the past, western China has long been lingering at the lower end of the production chain. In recent years, the region has been promoting industrial upgrading and has been taking the intelligent industry as a focus of economic development.
At the end of 2017, Chongqing identified 12 key areas for the development of its intelligent industry, including big data, artificial intelligence, integrated circuits and intelligent hardware.
Guizhou Province has been promoting the digital industry and set a target of 100 billion yuan of total output value of the electronic information manufacturing industry by 2020. Sichuan Province has put forward the implementation plan of "Internet Plus Made in Sichuan."
Greater prospects
China has built more than 200 digital/intelligent factories, and had become the biggest intelligent manufacturing market in the world, said a report released at the World Intelligent Manufacturing Summit held in October 2018 in east China's Jiangsu Province.
China's intelligent manufacturing market will exceed 220 billion yuan by 2020, said the report.
According to a report released by the Chinese Institute of New Generation Artificial Intelligence Development Strategies (CINGAI), as of February, the total number of AI enterprises in the world reached 3,438, with China ranking second with 745.
In February, China published a draft catalog of industries encouraging foreign investment. Foreign investment is welcomed in advanced manufacturing, and new and high-tech, according to the catalog.
Visitors are portrayed by an AI robot during the 2019 Smart China Expo in southwest China's Chongqing Municipality, August 27, 2019. [Xinhua/Wang Quanchao]
Henriette Reker, mayor of Cologne, Germany, said the smart transformation will help maintain the momentum of China's economy, and China will continue to play a key role in world economic development.
Luis Diego Monsalve, Ambassador of the Republic of Colombia to China, said China's intelligent industry offers great opportunities to countries around the world.
Colombia has advantages in its land and labor costs, and has the conditions to be the production base of smart products for Chinese enterprises, he added.
At Smart China Expo, 530 projects involving 816.9 billion yuan of investment were signed. The projects cover areas including 5G technology, integrated circuits, artificial intelligence and the Internet of Things.
(Source: Xinhua)