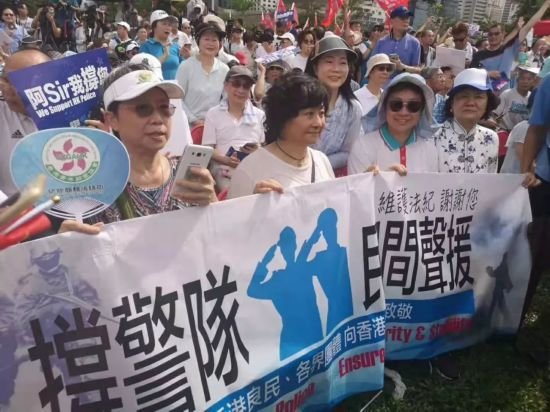 Members of women's organizations in the Hong Kong Special Administrative Region (SAR) express their support for the police following a violent break-in at the Hong Kong SAR legislative chamber. [For Women of China]
Women's organizations in the Hong Kong Special Administrative Region (HKSAR) on July 2 strongly condemned the violent break-in to the HKSAR legislative chamber, and called for all mothers in Hong Kong to give timely and patient guidance to their children, protect them from being affected by extreme words and work in unity to maintain peace.
The statement by the All-China Women's Federation Hong Kong Delegates Association came after rampant destruction of the Legislative Council building on July 1 by violent protesters.
The statement also condemned the opposition legislators who instigated violence among youngsters against the Hong Kong SAR government.
The association has a deep commitment to upholding the nation's dignity and social stability and it is a firm advocate of Carrie Lam Cheng Yuet-ngor as the chief executive of the Hong Kong SAR. It has also expressed its firm support for the Hong Kong SAR government as it administers the region according to law and for the police who enforce the laws.
The Hong Kong Women Development Association (HKWDA) and 30 other women's organizations also issued a statement strongly condemning the disruption of the spirit of the rule of law in Hong Kong, once the pride of Hong Kong residents, through the illegal and violent actions of a minority of protesters.
The HKWDA said in the statement that the rioters who broke into the legislative chamber should be prosecuted and called for all the protesters to seek peace and rationality while expressing their opinions and to strive for the better future of Hong Kong.
It also suggested women in Hong Kong should spend more time caring for the sentiments and performance of their children and enquiring whether or not they were affected by irrational remarks in schools or other social welfare institutions.
A joint statement issued by 28 women's groups in the HKSAR strongly condemned the violent offenders who disrupted the SAR's social order and assaultedthe police, saying that they undermined Hong Kong's fundamental interests, adding that the groups' members were shocked, irritated and grieved by the vandalization of some rioters.
The groups underscored that the SAR government should hold the lawbreakers accountable in accordance with law. Also, they commended the police for their forbearance and expressed deep condolences to those injured at their post.
In addition, the groups hoped that all walks of life in Hong Kong would stick together and safeguard the city's prosperity and stability.
Hong Kong New Youth Energy Think Tank, a Hong Kong-based non-profitable youth organization, also called on youngsters not to be abetted by hate speech but to accept a peaceful and rational way of expressing ideas.
The All-China Women's Federation Hong Kong Delegates Association releases a statement on July 2 in the wake of rampant destruction of the Legislative Council building on July 1. [For Women of China]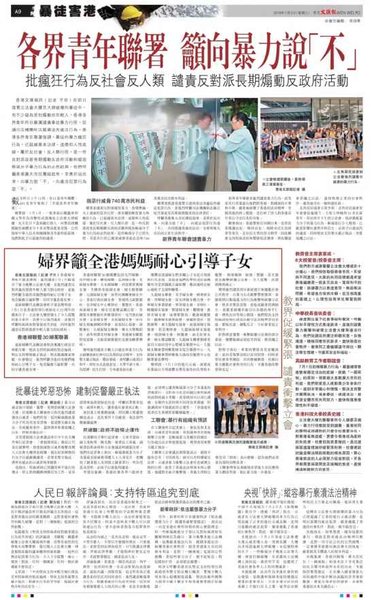 An edition of Hong Kong newspaper Wen Wei Po features that the Hong Kong Women Development Association calls on all mothers in Hong Kong to give timely and patient guidance to their children. [For Women of China]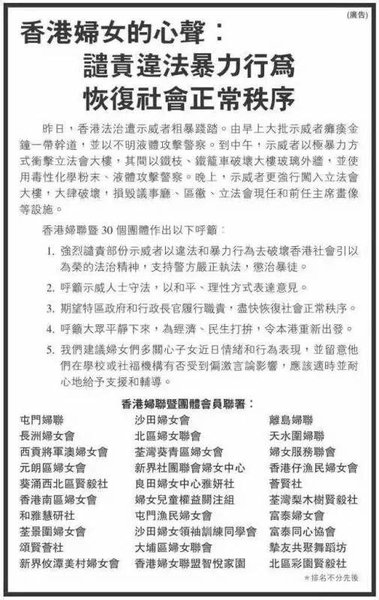 Hong Kong Women Development Association and 30 women's organizations issue a joint statement on July 2 condemning illegal and violent behavior and calling for restoration of social order. [For Women of China]
The Hong Kong New Youth Energy Think Tank releases a statement on July 2 condemning the violence done to the Legislative Council building and showing support for the strict enforcement of law. [For Women of China]
(Women of China)