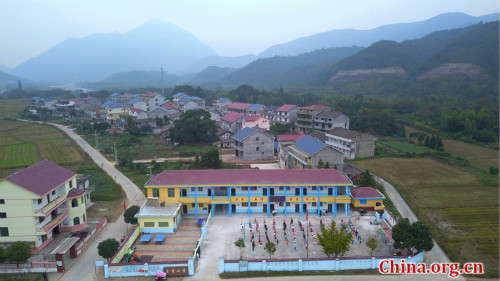 Changfu Primary School, located in a mountainous area of Erkou county, Guixi city in Jiangxi province. [China.org.cn/Tian Weitao]
Ten-year-old Liu Zhihao lives in a small village called Changfu, located in Erkou county in Jiangxi province. Like many rural children left behind by their parents away from home seeking jobs in cities, the boy felt lonely and tended not to talk.
Liu's parents divorced when he was very young. To support a big family, Liu's father went to Fuzhou, Fujian province, to find a job. Liu and his younger brother then went to stay with their grandparents.
Soon, however, Liu's grandmother died of cancer, adding to the miseries the family had already been unfortunate enough to face. It was very hard for the family to live off the father's low salary in the city. While taking care of the youngsters, Liu's grandfather raises bees, selling honey to help pay the family expenses.
With everything going wrong, the boy felt much depressed. His greatest wish was to see his parents make up, come home more often, and celebrate the Lunar New Year with the entire family.
"Dad promised to buy me a cell phone if I can pass the exam with 80 marks in every subject of my school work," he said, adding: "If I can make it, I will have my own mobile phone to chat with my parents instead of borrowing one from my teacher."
Luckily, Liu's life has changed a lot since the Happy Children's Home was built in his village and started to operate on Oct. 30, 2017. It has become a place frequently visited by the boy, where he can read books, draw pictures, play games and, more importantly, communicate with others and make friends. In this way, he has become more open and cheerful.
Wang Ziye, a volunteer teacher, said many children were joining the Home after facing a situation similar to Liu's.
"This group of children have few chances to stay with their parents all year-round. A home like this, where teachers provide special service to help them leave the lonely world, is good for their growth," Wang said.
The "Happy Children's Home" is a public welfare project initiated by the All-China Women's Federation and the China Children and Teenagers' Fund in 2014. The idea is to establish the facility in the villages, towns and communities inhabited by left-behind children. To date, 1,042 such Homes have been built in 30 provinces, municipalities or autonomous regions. Left-behind children can read books, draw pictures, watch cartoons and play games there after school and on weekends and during vacations. Volunteer teachers provide psychological counselling service and professional guidance.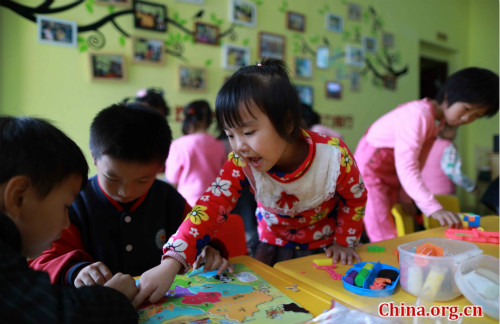 Children enjoy themselves at the Happy Children's Home in the Changfu village of Erkou county, Jiangxi province. [China.org.cn/Children enjoy themselves at the Happy Children's Home in the Changfu village of Erkou county, Jiangxi province. [China.org.cn/Tian Weitao]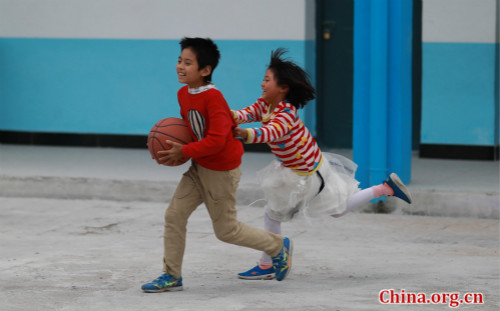 Liu Zhihao and his classmate play basketball on the playground. [China.org.cn/Tian Weitao]
(Source: China.org.cn)