The elderly cook in a shared kitchen. [Beijing Evening News]
Shared life has become a part of seniors' lives in some communities in Beijing in recent years.
A shared economy is a common phenomenon in modern society, for instance, there are now shared bikes and umbrellas. In some communities in Beijing, many seniors have also kept pace with the trend of sharing.
Shared Kitchen
Shared kitchens appeared in a community service center for the elderly in Shunyi District in 2016, according to Zhang Mei, a young woman heading a volunteer association.
The kitchen was established after she and her colleagues found that the elderly were sometimes hungry when they came to the service center for taking a rest or enjoying leisure activities.
Each person could bring their own small domestic appliances, fresh and tasty food ingredients and good recipes to the kitchen, which opens from 7:30 a.m. to 5:30 p.m.
"I brought my oven and noodle press to the kitchen for two reasons. First, I have similar utensils at home, and I don't want to leave it idle. Second, these utensils can make our cooking more convenient. At times, we make biscuits which turn out to be very tasty," said 64-year-old Guo Qiuling.
A 70-year-old woman surnamed Wang has a particularly deep feelings for the kitchen. In her eyes, it is not just a place where she can have snacks, but she also regains happiness here.
"Last year, my husband died, which made me feel desolated for quite a long time. I sometimes felt dizzy because of my sadness. I am glad to have such a place where I can communicate with people," said Wang.
The kitchen is expected to facilitate the communication between seniors and help them lead a happier life.
Reading
The seniors in Keyu Community in Haidian district make it a rule to read one book each month so as to set a good example for their children.
"I am interested in reading along with other seniors. Since the launch of the shared reading campaign in the community earlier this year, I have been a member of the program," said an old woman surnamed Yuan.
"Seniors who have retired from their posts tend to have a sense of loss. Through reading in this way, we have broadened our horizons and become acquainted with more people, thus gradually getting rid of our negative mood," Yuan continued.
On the morning of the third Thursday each month, members of the shared reading program come to the activity center of the neighborhood committee to share their thoughts and feelings about the reading, elect the leading reader of the month and select the book for the next month.
Lu Ping (pseudonym), also a participant of shared reading, praised the positive influences presented by this activity.
"Shared reading widens my scope of knowledge and exerts a positive influence on my family members. My child also enjoys talking with me about the book that I read," said Lu, adding that she has donated about 40 original picture books she brought from abroad for the library of the community to benefit more people.
So far, the seniors of Keyu Community have read many books including 84, Charing Cross Road, To Live and The Kite Runner. Apart from their monthly communication with each other, they chat on the mobile chat app WeChat.
Opinions
Yu Xianyang, a professor of sociology from Renmin University of China, thought highly of shared kitchens and books among the elderly. As he sees it, a shared life is more valuable and efficient than the exchange of ordinary resources and is beneficial for cementing relationships between neighbors.
According to him, more shared platforms should be established so that like-minded people can gather together for recreation and mutual help.
He also proposed some measures to develop good shared platforms.
Community staff members can set up a fund to sponsor shared platforms if they involve money. They can also raise money online to ease financial pressure. Each community should follow the principle of developing shared projects according to its practical conditions, rather than follow suit blindly.
In line with these measures, the scale of shared platforms will grow larger and more people will benefit from such platforms.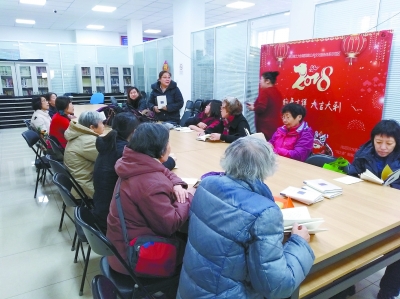 The elderly take part in shared reading. [Beijing Evening News]
(Source: Beijing Evening News/Translated and edited by Women of China)