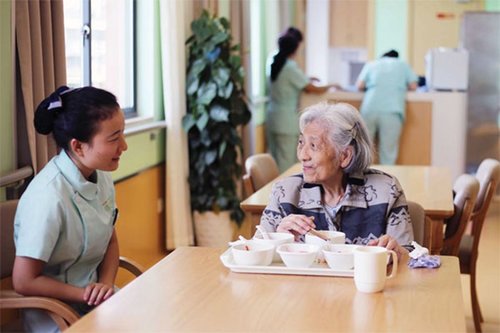 An undated photo shows an elderly woman dining at a nursing home in Hangzhou. [China Daily/Sun Yidou]
China's elderly care market is set for a giant leap on entry of foreign capital.
Economic risk or hidden opportunity? Or, is it a potential game-changer, even an economic growth driver?
These days, such questions divide experts debating demographic forecasts that China would soon become an aging society, slowing the Chinese economic juggernaut.
Thanks to an imaginative tweak of the country's reform and opening-up policy, the threat seen in an aging society may turn out to be a huge business opportunity, experts said.
By the end of 2017, there were 241 million Chinese, or 17 percent of the population, aged 60 or above. And 158 million of them, or more than 11 percent of the population, were aged 65 or above, as per the data of the National Bureau of Statistics.
The country's elderly population is increasing by 10 million annually. It is estimated that by 2020, those aged 65 or over will account for 14 percent of the population.
A forecast from the World Health Organization said that by 2050, more than 35 percent of the Chinese population will be aged 60 or above, which would make China the country with the most number of aging people.
In any other country, such figures might trigger alarm bells, given the adverse impact that an aging society has had on the Japanese economy in recent years; but in China, the discourse acquired a parallel track with a positive charge.
A report from the Chinese Academy of Social Sciences said elderly care is a sunrise industry whose annual sales could reach an estimated 13 trillion yuan ($1.87 trillion) by 2030 from the current 5.9 billion yuan.
Such stupendous growth is expected on the basis of the experiences of developed countries. A large base of aging people in an economy that has seen both restructuring and sustained rapid growth is a perfect recipe for growing a sophisticated market for senior-care services.
That's because people would have benefited from rising incomes and saved a bit in the past for a stable, financially stress-free post-retirement life, experts said.
On top of that, when new policy measures enable foreign investment in the potentially lucrative elderly care sector, what could have been a risk may prove to be one of the drivers of economic growth, they said.
Such interpretations appear plausible in a private nursing home in Weihai, Shandong province. Here, Sun Ying, 85, and her husband Zhang Wei, 86, experience their sunset years in quiet contentment and peace, in spite of Zhang's neurological condition that was detected three years ago.
Their peace appears to arise from the fact that they live in a community of similar age people. The community is a commercial venture that is operated by professionals who deliver services tailored to exacting standards.
The nursing home, called Dongfa House, was Sun and Zhang's choice when they realized they needed care. They did not want to be a burden on their children who live hectic lives.
Sun said: "Here (in the nursing home), each of us has a health record. Our BP (blood pressure) is checked once a week. We receive medical attention whenever required. I enjoy reading books every day, while my husband often plays with his poker-mates.
"Sometimes, student volunteers come here to perform for us. Compared with public nursing homes, we find the staff here to be more patient. Our lives have been enriched."
So are lives of all the stakeholders concerned-nurses, care-givers, doctors, physiotherapists, attendants, plumbers, electricians, mechanics, construction workers, florists, material suppliers, providers of various other services.
An elderly care project entails a plethora of investments, activities and services. Done on a mass scale across a vast country like China, it could help drive economic growth, experts said.
For instance, the nursing home that Sun and her husband live in charges a monthly fee of 2,140 yuan per person. They live in a mid-range 30-square-meter apartment. A high-end apartment could cost 2,460 yuan per person per month.
The fee includes a buffet meal every day. Residents undergo a physical before admission; the practice ensures no one with infectious diseases gets admitted.
There are many takers for modern elderly care services in China. Stated differently, demand outstrips supply. So, the government has amended regulations to allow the private sector to set up profit-oriented businesses in elderly care. Small wonder, foreign investors are lining up to back a range of projects in this segment.
Already, 29 provinces and autonomous regions have decided to open up their elderly care markets. And 26 of them have proposed foreign investment in the segment.
In fact, in January, China's Taikang Community, a privately held firm, teamed up with French senior-care company Orpea, to set up a joint venture on the Chinese mainland.
According to their strategic partnership, the two entities will cooperate and explore the market for urban-type nursing homes and rehabilitation centers in China.
Orpea will provide its advanced care techniques as well as bring standards and processes. For its part, Taikang will integrate its resources in clients, insurance products and healthcare. Both parties aim at building a high-quality brand in China's pensioner care services.
"Our cooperation (with Taikang) is expected to inject new vitality into the Chinese senior-care industry," said Gao Tianli, president of Orpea's China unit.
Elsewhere, various government departments concerned are researching the sector intensively and holding seminars.
Administrative procedures are being simplified to expedite private investments in the sector. At the same time, state institutions in elderly care are being reformed and modernized.
That's not all. The government said it will improve the policy on financial support for elderly care projects. This is expected to increase investments as well as financing channels, and better coordinate planning for balanced urban-rural distribution of projects and judicious land use.
The net result of all these measures could be not only that supply of elderly care services will rise to meet demand but the quality of the industry will likely improve, market insiders said.
According to a recent report by market research firm ASKCI Consulting, state institutions outnumber private-sector services in China's elderly care market. The demand-supply gap has been widening, especially in terms of beds.
In 2016, there were 28,500 nursing homes for the elderly in China offering 7.8 million beds. In other words, for every 1,000 elderly people, there were only around 34 beds available, a far cry from the situation in developed countries.
Even though the number of elderly homes will surpass 30,000 this year, the potential for future growth remains huge, experts said.
Li Chang'an, a professor with the School of Public Administration of the University of International Business and Economics, Beijing, said: "The introduction of foreign investment can make up for the capital shortage. Although the country has always been actively raising funds for the elderly care industry, the funding gap is still huge. The entry of foreign capital will help increase supply.
"In addition, through the introduction of foreign capital, the quality of the nation's elderly care services can be raised. We can learn from advanced management, expertise, service concepts and technologies of foreign companies in the sector, to improve the service quality in China."
He said many foreign institutions appear to target pensioners in the medium to high-end consumption groups in China. Although services in these segments tend to be costlier and the number of target consumers relatively limited, the expected entry of foreign firms will likely meet people's increasingly diverse needs.
Ren Yuan, a professor with the School of Social Development and Public Policy of Fudan University, said: "Now is the best time for foreign capital to enter the market for Chinese pensioners. The competition will only get fiercer from now on."
(Source: China Daily)