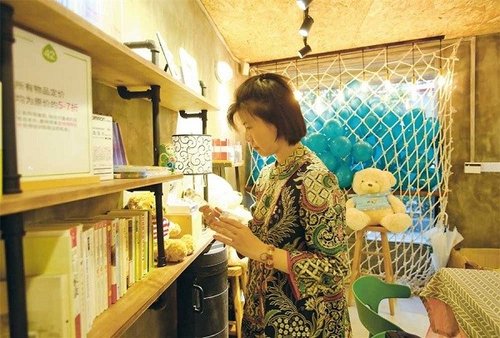 Clothes, bags and even wine can be bought at a new charity shop in Jing'an. [Ecns.cn]
The seven-year-old online charity shop Buy42 opened its first street shop in downtown Shanghai yesterday.
Located on Xinzha Road by Jiangning Road, the 100-square-meter space, is stylishly furnished and has racks of secondhand as well as new clothes, books, toys, bags, bottles of donated wine and home appliances, such as hairdryers.
Occupying a former tax administration office of the subdistrict Shimen Road No. 2 in Jing'an District, the shop comes under the coordination of Shanghai Charity Foundation, which will handle the financial management.
Income from sales will be used to support the training and employment of disabled people to work in the shop as well as to help to alleviate poverty in the subdistrict.
Yu Shiyao, co-chief executive and marketing director of Buy42, said dozens of companies partnered with the organization had donated goods for sale at both its online operations and at the Xinzha Road shop.
"At the shop you can also buy cloth bags created from donated clothes that are not considered fit to be put on sale," said Yu, adding that the shop accepts donations of sellable objects, including nearly new clothing.
Staff at he shop, which opens from 9am to 8pm daily, said all goods would be sold at 50 to 70 percent of their market prices.
By yesterday afternoon, it had recorded sales of nearly 6,000 yuan (US$880).
Bamboo Yuan, a young designer who has been working alongside Yu's team on a voluntary basis for five years and who was in charge of the shop's design, said it was similar to charity shops in other countries, such as the Goodwill stores in the United States.
"Our shop is perhaps more spacious with fewer racks because we hope to make it also a place where people can come to meet and talk and through events to promote charity as a life style," she said.
The project has attracted volunteers, such as Li Juan, a former fashion shop manager, who plans to help in the shop from 3pm to 8pm every day. "I think this is a very worthy cause which is dedicated to helping disabled people, and I can see the satisfaction on their faces when they came here to visit today," she said.
Dong Guifang, a nearby resident, dropped in yesterday afternoon after reading about the shop on the subdistrict government's WeChat account. She said she would like to see a bigger selection of clothes.
Another Buy42 charity shop is scheduled to open on Jiangning Road by the end of this year, and a third is being considered.
(Source: Ecns.cn)