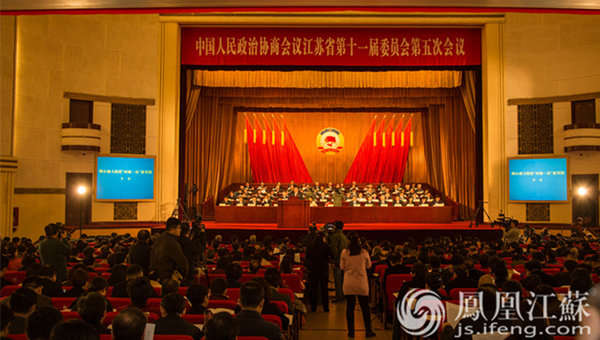 Officials convene at the hall for Jiangsu Provincial People's Political Consultative Conference. [js.ifeng.com]
Officials from the women's federation in east China's Jiangsu Province recently tabled relevant proposals to officials at the so-called "Two Progresses" meetings – the Provincial People's Congress and the People's Political Consultative Conference.
Miao Zhihong, president of Jiangsu Women's Federation, and Vice-President Zhang Qin put forward ideas on the latest hotly-debated topics affecting women and children. Areas discussed included the nation's second-child policy, women's property rights in rural areas, and female undergraduates' ideological education.
Second-Child Policy
Statistics released by the All-China Women's Federation show that more than half of the nation's households are unwilling to have more than one child at present. Also, more than 80 percent of couples said that children's pre-school education is a priority, and they expect it to be integrated into public services.
Miao suggested the government issue policies or regulations with regards to youngsters' care and education, especially targeting under-3s.
Moreover, local education, civil affairs, healthcare departments and industrial and commercial bureau are urged to fulfill their job responsibilities in supervising the childcare market, the president said.
To improve nursery conditions, Miao took the example of Japan to illustrate that childcare agencies should be under the joint supervision and organization of the local medical department, hygiene department and social security bureau.
When children grow older, relevant agencies are expected to be involved in schools which are under the control of the local education administration department.
Meanwhile, community-based childcare nurseries, whether public or private, are expected to cater for both middle-class households as well as underprivileged families, who would further be supported by local government, the official explained.
In rural areas, infant classes should be incorporated into local existing kindergartens, Miao said.
Moreover, another advice from the president is to establish several nurseries among large and medium-sized corporations, aimed at benefiting relevant female employees.
Gender Equality Concern During Real Estate Registration
One of the most significant initiatives in China's land reform concerns the registration certificates for land and houses issued by government departments to residents in rural areas, Miao said.
The meetings are an opportunity to highlight the State policy of gender equality and further safeguard grassroots women's rights and interests with property and land, Miao added.
Previously, rural women were at high risk of losing their assigned land due to many reasons, pointed out the official. For example, married women were often asked to return the land assigned to them from their naturalized families; similarly, divorced women would lose land to their ex-husband's family; woman would also lose possession of land in the event of the death of their partner.
According to Zhang, a questionnaire surveying female villagers released by Jiangsu Women's Federation reveals that 25 percent have no idea whether it is fair for women to own property rights. Also, 9.1 percent oppose the idea that women have a right to land or houses.
"Therefore, the upcoming property registration efforts across the province should safeguard women's equal rights," Zhang stressed.
The official further suggested that the work team of the certificates center should involve women's federation officials to carry out checks and supervision.
Property certificates should match the items recorded in the local information center, which can clearly identify each woman's personal information and their property details, Zhang urged.
Female Undergraduates' Ideological Education
The eastern province has long enjoyed a high status in China's higher education in terms of both the quantity and ratio of female college students, Zhang commented.
Statistics reveal that the number of female students at college or universities there reached 852,800 by the end of 2015, accounting for 49.7 percent of the total.
Miao suggested that the provincial education department establish a work mechanism to guide female students with the spirit of innovation and reform.
"Officials are expected to take advantage of new media in supporting female students in academic study, workplace and later marriage," stressed Miao.
Moreover, college students are encouraged to learn from successful women, such as March 8th Red Banner Prize winners, the official concluded.
(Source: China Women's News/Translated and edited by Women of China)