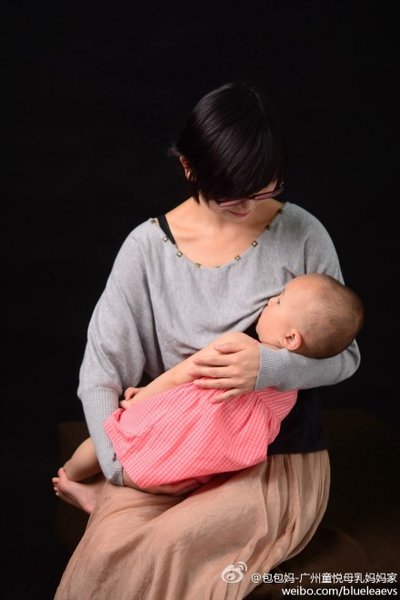 A mother breastfeeds her baby. [weibo.com]
A photo uploaded by a Chinese internet user, showing a mother breastfeeding on the Beijing metro, has caused public indignation recently for breaching the woman's privacy and showing disrespect.
Many questioned the photographer's ethics in taking a picture of such a private scene and posting it online without pixelating the young mother's face.
They berated the photographer for the scornful caption that showed an apparent despise for the woman, which read: "Hey, mother, is it proper for you to do this? Or should I remind you that you are taking the subway in Beijing, not the bus in your village?"
Furthermore, the picture ignited anger among other mothers, who declared that it was irrational to mock a woman for breastfeeding in public, since it is such a natural thing to do.
The picture once again led to calls for more facilities to be put in place to facilitate breastfeeding across the country.
Tracing the Incident
The picture first appeared on a personal account on the popular Twitter-like social media platform Weibo, with a caption saying that the mother should mind her behavior and not expose herself in a public area. The post received numerous negative comments from viewers who requested it be deleted.
The blogger was later found to have posted the same picture on a new account and engaged in arguments with commentators.
On Friday, the number of comments mushroomed as BJtale, an independent Beijing-based group, reposted the picture with the original caption.
On Saturday evening, BJtale deleted the post. On Sunday, it made a statement, clarifying that it had reposted the picture and captions without any edit and apologized for the social impact of the repost.
It further emphasized that it was not against breastfeeding and the purpose of posting the picture was to "call for a discussion of whether it is proper to breastfeed in public without any covering."
After it later closed its account, another citizen surnamed Liu—who is the mother of a 2-year-old—registered an account with a similar name to BJtale to recap the whole history of the post and call for resistance against such photographs and bias against breastfeeding.
More Support to Breastfeeding
"Breastfeeding is the most natural and healthiest way of feeding babies," said Fang Minhui, consultant of the 10 Square Meters of Love campaign, launched by the United Nations Children's Fund to raise awareness and support for breastfeeding moms.
One of the important principles for breastfeeding is to meet the child's demand, which means he or she should be breastfed without consideration for the time or occasion, Fang emphasized.
Whilst feeding, the mother should be free to consider the baby's needs more, not have to worry about her personal needs, she explained.
"If conditions allow, mothers surely do wish to cover up, but it is normal that they expose themselves if conditions don't otherwise allow," she said, calling for more understanding from the public.
Fang also pointed to the right of babies to public resources, saying that society should lend more support to those breastfeeding, including the establishment of special rooms so that mothers could feed their babies in a cozy and quiet environment.
Breastfeeding Flash Mobs
China has witnessed many campaigns on breastfeeding this year. In August, 88 mothers from China and all over the world staged a flash mob in Jin Mao Tower in Shanghai, calling for public support.
In May, over 80 mothers and their babies took part in a flash mob in Fuzhou, capital of southeast China's Fujian Province. Along with that action, photos on breastfeeding were exhibited to promote the healthy activity and stress the right of a mother to breastfeed her child in a natural manner.
(Source: Beijing Youth Daily /Translated and edited by Women of China)