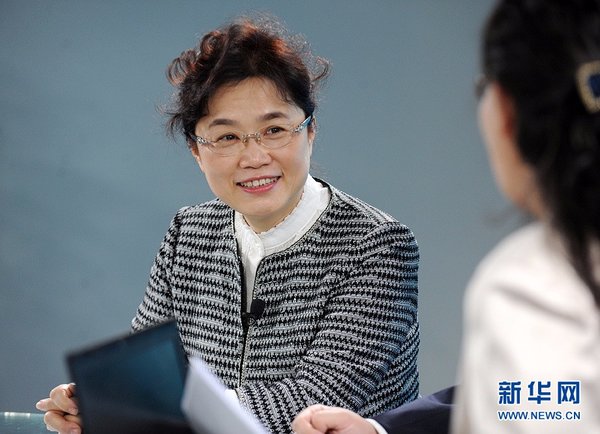 Gao Shawei talks to Xinhua about the ACWF's initiatives in protecting women and children. [Xinhua]
China's State news agency Xinhua recently interviewed Gao Shawei, an official from the ACWF, and Chen Shiqu, a police officer, to probe further into protecting the legal rights and interests of women and children.
Specifically, Gao Shawei is the director of the Department of Women's Rights and Interests of the All-China Women's Federation (ACWF). Chen Shiqu serves as deputy-inspector at the Criminal Investigation Bureau of the Public Security Ministry (MPS).
Remarks from Gao Shawei
Marriage is the basis of the family, whilst families serve as cells of the whole of society. Therefore, an amicable family relationship is crucial to a harmonious society, believed Gao.
In recent years, traditional Chinese family structure has undergone dramatic changes. This could be largely attributed to the huge economic and social modifications which have occurred in the country, thus bringing out many family issues, for example, divorce or family disputes, added Gao.
To tackle these problems, the ACWF has relentlessly resolved to protect the legal rights and interests of women and children.
So far, women's federations across China's 15 provinces, autonomous regions and municipalities have already established triad-conciliation committees, under joint efforts from local justice departments, civil affairs bureaus, the courts, and government departments.
Specifically, the Bureau of Civil Affairs has brought forward potential family issues and marital guidance at the moment that couples choose to register their marriage.
Meanwhile, the committee also promotes national policies and laws on marriage and family as well as offering psychological consultation to those in need.
Among 15 pilot committees in central China's Hunan Province, 5,592 couples have sought consultation, lifting the reconciliation rate up to 39.5 percent.
Lawsuit mediation in the courts has combined women's federation efforts with the justice department in resolving family disputes, which has already been put on trial in provinces of northeast China's Liaoning, southeast China's Fujian and south China's Guangdong as well as north China's Mongolian Autonomous Region.
Remarks from Chen Shiqu
Police officers are urged to conduct an investigation the moment they receive an emergency call about lost women or children.
Quick responses to such criminal cases are one of the crucial initiatives in rescuing abducted or trafficked victims.
Led by senior police officers, the investigating team should spare no efforts in finding the lost persons, among which the Ministry of Public Security would be in direct charge of fighting against trans-regional criminals, eradicating the roots of such crime.
Severe punishment would be exerted on those who have forced teenagers to commit a crime.
Meanwhile, consulting teams consisting of officers would be assigned to support victims' families in overcoming difficulties.
Moreover, a nationwide information-sharing system has been established after collecting DNA samples of parents of abducted children and homeless child-beggars, who would be later sent to relevant shelters.
So far, a total of 4,548 children have already reunited with their families after comparing relevant DNA samples via the platform, with the longest lost time up to 56 years.
The website called Baobeihuijia.com (Baby Back Home) was set up in 2007 to help children who are homeless, abandoned or taken by traffickers, to return home.
At the same time, international cooperation and public support is expected to fight against evil and bring as many children as possible back home.
Social media, for example, including the twitter-like micro-blogging channel Weibo upon which Chen has opened an account, have contributed to providing instant messaging on missing persons.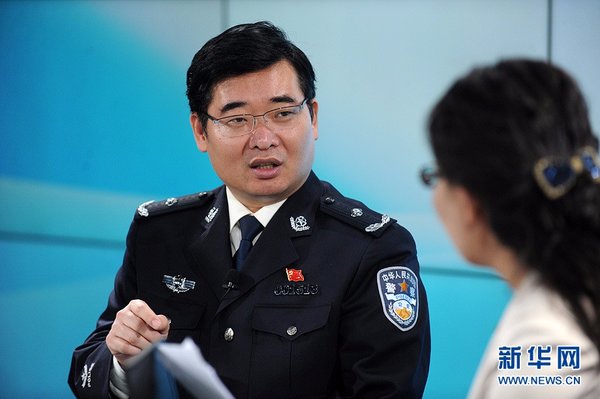 Chen Shiqu lists the efforts of the MPS in rescuing abducted persons. [Xinhua]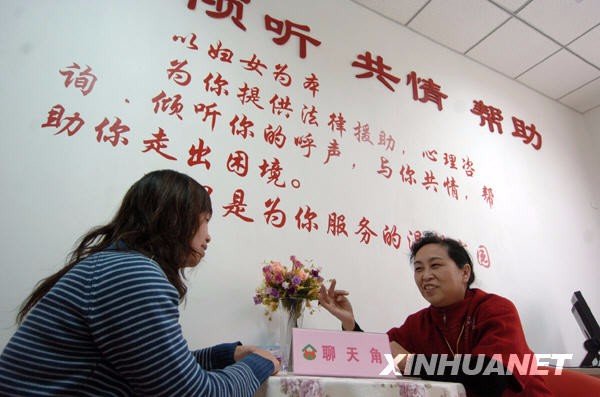 A woman (L) turns to consultations provided by a local women's federation. [Xinhua]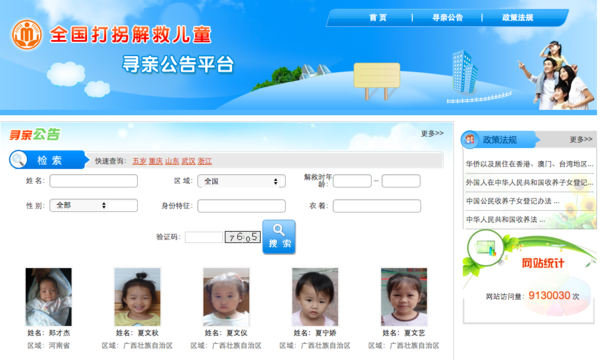 A screenshot from the website searching for abducted children [Women Voice]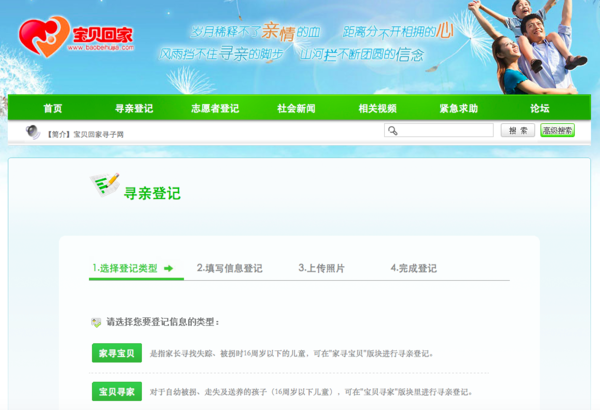 A screenshot from the website Baobeihuijia.com which contains registration information about lost children [Women Voice]
(Source: Women Voice/Translated and edited by Women of China)