A guideline that requires women's cubicles to outnumber men's at newly constructed restrooms will somewhat ease the long lines of women waiting to use the toilet when it takes effect next year.

The guideline, issued by the Beijing Municipal Commission of City Administration and Environment, states that the ratio of female-to-male cubicles at public toilets should be 1.5 or 2-to-1 in 2013. It will be applicable to new and renovated public toilets in Beijing.

But the guideline is not a mandate, and public venues including shopping malls and restaurants can build restrooms at a ratio they believe is reasonable, the commission said.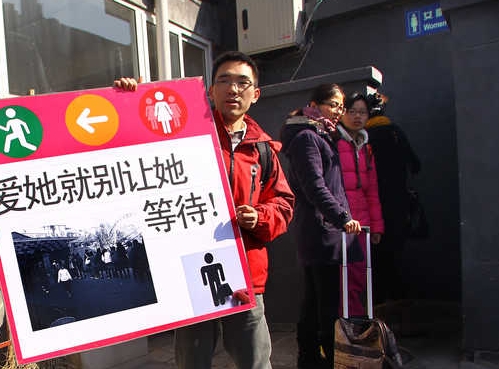 Volunteers launch a campaign to "occupy men's toilets" in Beijing earlier this year to call for more cubicles for women at public restrooms. [China Daily/Zou Hong]
"It's a recommended standard, not mandatory to all of the new and existing latrines," said Cui Xuan, deputy chief of the environmental sanitation division at the commission. "The new standards have been completed and are being reviewed by experts. It is expected to be implemented in 2013, and the exact date has not been decided yet."

Experts warned that the effect of the guideline could be very limited.

Beijing, with a population of more than 19.6 million, has about 12,000 stand-alone restrooms, a number that outpaces other international metropolises such as New York, London and Tokyo.

But most of these venues still follow the old 1-to-1 ratio, and long waits for women are still common at cinemas, airports and shopping malls.

By 2015, Beijing will build more than 2,000 new stand-alone restrooms, and some old ones will be renovated, according to the commission.

Han Zhipeng, a member of the Chinese People's Political Consultative Conference in Guangzhou and one of the first officials to raise the cubicle ratio issue, said Beijing's guideline does not necessarily mean that the wait time for women at restrooms will be reduced.

"Though it's a good move to solve the toilet woes, its effect may not be that positive because it's not mandatory," Han said.

According to the statistics Chen provided, women spend an average of 89 seconds at the toilet, 2.3 times more than men (39 seconds).

To make it easier for residents to find a toilet, Han urged government agencies to open their restrooms to the public.

Apart from Beijing, most cities in China have an equal number of men's and women's cubicles.

Earlier this year, several female undergraduate students from universities in Guangzhou and Beijing launched a campaign of "occupy men's toilets", which set off a fierce public discussion and prompted the government to take action.

One of the first cities to address the issue, Guangzhou came up with a mandatory regulation to increase the ratio of female toilet cubicles, especially in shopping malls, tourist attractions and universities.

The new standards will be implemented soon.

"I totally support the implementation of such measures in more cities," said Cao Pu, 25, a student at Guangdong University of Foreign Studies.

"In my hometown (Changsha, capital of Hunan province), we often have to wait in long lines outside toilets at almost every shopping mall."

More cities, such as Zhuhai in Guangdong and Hangzhou in Zhejiang province, plan to implement similar policies.

Guo Jianmei, a Beijing-based public-interest lawyer specializing in rights for women and children, sees it a positive sign.

It may take years to build more restrooms for women, she said, "but at least it's a progress in winning attention in protecting women's rights".

Guo also said that regulations designed to protect women's rights in issues such as shortening their waiting time at public restrooms are poorly implemented.

"The governments need to allocate more funds for construction and pay more attention to such issues," she said.


(Source: China Daily)