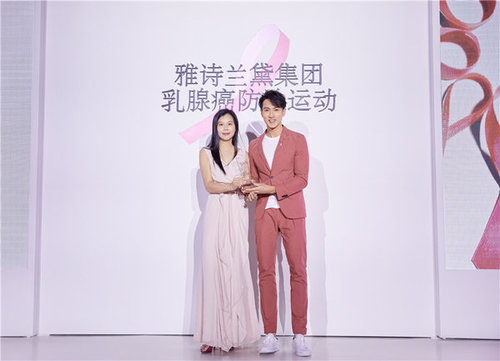 Estee Lauder named Bruneian actor, singer and model Wu Chun the publicity ambassador for the pink ribbon movement. [China Daily]
Roche Pharma China announced Monday that its innovative targeted drug for breast cancer, Perjeta, has been approved by the National Medical Products Administration(NMPA). The combination of Perjeta with trastuzumab and chemotherapy has been used as adjuvant treatment of patients with HER2-positive early breast cancer at high risk of recurrence. The dual targeting -therapy with Perjeta and Herceptin can reduce the risk of recurrence or death by 25 percent for patients with HER2-positive early breast cancer at high risk of recurrence At present, this innovative treatment regimen has been recommended by a number of Chinese and international guidelines and experts.
Breast cancer is the most common malignant tumor among women in China. The incidence of breast cancer in China ranks first in the incidence of female malignant tumors and becomes the "No. 1 killer" of women's health. With the advent of the age of precision medicine, people have gained a more scientific understanding regarding breast cancer.
Professor Ren Guosheng, the Chairman of Committee of Breast Cancer Society of Chinese Anti-Cancer Association(CACA-CBCS), said "Breast cancer is not an independent disease, and it has a high degree of heterogeneity. According to the patients' driver gene, hormone receptor expression, and cell molecular status, breast cancer can be divided into four subtypes: Luminal A, Luminal B, HER2-positive, and triple negative breast cancer. According to different molecular typing, an individualized and systematic treatment is needed."
Of the four subtypes of breast cancer, HER2-positive breast cancer accounts for about 20-25 percent of all breast cancer cases. Because of its poor prognosis, it was once called "the most dangerous breast cancer". It has a higher degree of malignancy of the tumor cells and faster progression of the disease, more prone to metastasis and recurrence, among many other problems. With the advent of targeted drugs for HER2-positive breast cancer, Herceptin has become the golden standard for HER2-positive breast cancer. The treatment of HER2-positive breast cancer has made great progress in the past 20 years. 3/4 of patients with HER2-positive early breast cancer have achieved clinical cure. Nevertheless, 25% of patients with early HER2-positive breast cancer are still suffering from recurrences of the breast cancer after being treated with their previous anti-HER2 treatments.
"Breast cancer is a systemic disease, tumor cells have usually been spread throughout the body at the beginning of diagnosis. Therefore, the key of breast cancer treatment is source control for achieving zero recurrence." Professor Ren Guosheng claimed that there is no effective way to cure breast cancer if it recurs to a late stage. Therefore, for every early HER2 positive breast cancer patient, minimizing the risk of recurrence as much as possible is one of the important clinical goals, especially those patients at high risks of recurrence.
(Source: China Daily)