Neurologist Dai Guangming from Xinqiao Hospital, Army Medical University, sees a patient as part of a volunteer medical program in Zhugqu county, Northwest China's Gansu province. [China Daily/Cao Zhengping]
Health professionals working in remote Gansu province have found that altitude and lack of health awareness are factors that aggravate congenital heart disease, Fang Aiqing reports.
Medical experts taking part in a volunteer program in remote Northwest China are working with the local government and doctors to treat patients with congenital heart problems, an illness that continues to afflict many children and their families in the region.
A pair of twins under 2 years old were brought to the clinic of one local hospital.
One of the girls was plump and eagerly explored the room with her big eyes. The other child, however, was much thinner. Her lips and skin were visibly empurpled, and she stared into the distance with dazed eyes.
The latter was diagnosed with a complex congenital cardiac abnormality, for which the chances for corrective surgery seemed slim.
While a heart transplant remained a possibility, the procedure for a child was deemed so risky by doctors that it appeared to be "clutching at straws", says Chen Hao, a volunteer doctor.
Chen found it difficult to predict how long the sick infant would live. Even a common cold could deprive her of life.
"Assuming there were no other physical problems and with the correct daily medical care, the infant could live for up to a dozen years," says Chen, who was visiting the county hospital in Zhugqu, Gannan Tibet autonomous prefecture, Northwest China's Gansu province.
As the director of the cardiovascular surgery department at Chongqing General Hospital, one of the top-tier hospitals in Chongqing, he was one of more than 100 doctors from all over China taking part in the "China-hearts" volunteer medical program in the rural county from July 9 to 11.
According to the organizers, the program was initiated in 2008 following the Wenchuan earthquake by a group of high-end medical experts in Beijing. Since 2010, the program has been under the guidance of the United Front Work Department of the CPC Central Committee. And it has been organizing short-term volunteer health services for the past 10 years, mainly in the Tibetan areas of Sichuan, Gansu, Yunnan and Qinghai provinces, as well as in the Tibet autonomous region.
During the two-and-a-half day program, Chen and three other volunteer doctors saw around 50 children with congenital heart problems at the county hospital, says Li Wenjuan, a local health department official.
Two of the sick children were deemed in urgent need of surgery. Eight were identified as requiring surgical treatment as soon as possible, in order to make the best recovery. Some of the other patients had already gone through surgery and were having a follow-up consultation.
Another three young patients with congenital heart problems were diagnosed at Zhongzang Hospital in Lianghekou township of Zhugqu county, according to Yu Cuirong and Ma Shurong, two other volunteer doctors participating in the program.
The condition of one of the patients had progressed beyond the point where surgery could offer a cure.
Health Awareness
Zhugqu county in Gannan Tibet autonomous prefecture is located in southern Gansu province, about eight hours' drive from Lanzhou, the provincial capital.
Lying amid lofty mountains and with the Bailong River winding through, the county seat is frequently shrouded in mist. The rural county is familiar to the majority of the Chinese population after deadly landslides claimed more than 1,700 lives there in 2010.
It's still hard to identify whether the incidence rate of congenital heart problems in Zhugqu is higher than in other areas of China, Li says.
Chen Guocai, a volunteer doctor at the county hospital, believes the general trend is that the incidence rate is higher in western China than in central and eastern China, and that it is more prevalent in rural areas than in urban areas.
However, as a doctor with around 10 years' experience of working in volunteer medical missions in rural areas around China, Chen Hao admits that the situation in Zhugqu is more pronounced.
Congenital heart problems, contrary to the common view held by many locals, are not necessarily hereditary.
The high altitude in Zhugqu, ranging from around 1,000 meters to more than 4,500 meters, may partly account for the phenomena. A lack of oxygen in the air may contribute to a higher risk of fetuses suffering from a lack of oxygen in the womb and the arrested development of their cardiovascular systems, according to Chen Guocai.
In Chen Hao's view, pregnant women in rural areas like Zhugqu may not be able to gain adequate levels of nutrition as they are also not aware of how to properly take care of themselves during pregnancy.
For example, catching a cold during the first three months of pregnancy significantly raises the risk of infants developing congenital heart disease.
There also are hundreds of specific types of congenital heart problems. A few can spontaneously heal themselves, while the majority of them can be treated with major surgery.
For some certain complex cases where no effective radical cure is possible, palliative operations are able to relieve the pain, prolong life and greatly improve the patients' quality of life.
To this end, the country's civil affairs department has been supportive in treating congenital heart problems. In Gansu province, a considerable part of the costs are being covered by the serious illness insurance plans offered under the province's social insurance system.
As for impoverished patients, the local civil affairs department is offering its support to ensure patients pay no more than 3,000 yuan ($440) each year for the treatment of serious illnesses.
The department will cover the extra medical costs beyond 3,000 yuan after the reimbursement of serious illness insurance and other commercial insurance policies.
However, as local hospitals in Zhugqu have neither the doctors to perform the surgery required for serious heart problems, nor the necessary operative facilities, patients have to leave the area to receive surgery, incurring extra costs for transportation, accommodation and food.
And as more patients and their families attend top hospitals in cities like Beijing for the treatment of complex cases, the amount of money that can be covered by insurance drops considerably and the procedure of reimbursement becomes more complicated.
According to Li Xiaojuan, director of the local health department, 12.3 percent of the county's poor population have some form of serious illness, while 19 percent suffer from a disability.
Postoperative care also has the potential to bring down a family's living standards.
Li Wenjuan says the local health system has been actively publicizing basic information about congenital heart problems via the local media and social network platforms like WeChat and QQ.
Some family physicians and government officials also visit patients' homes to suggest possible solutions to their conditions face-to-face.
In general, as patients in families with children become increasingly aware of congenital heart problems, more of them are actively seeking treatment-which in turn is leading to an improvement in the situation.
And this trend is likely to continue as access to free consultations and treatment grows from a variety of sectors such as hospitals, related health enterprises and philanthropic organizations.
According to Zhao Tao, secretary-general of the organizing committee of "Chinahearts", they have sponsored more than 1,300 children patients with congenital heart problems to receive surgical treatment during the past decade and around 100 more will be funded this year.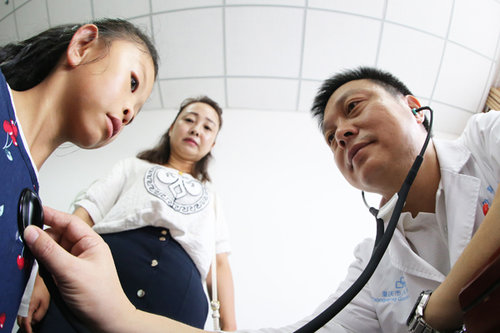 Chen Hao, a cardiovascular surgeon from Chongqing General Hospital, checks a young patient with congenital heart disease. [China Daily/Cao Zhengping]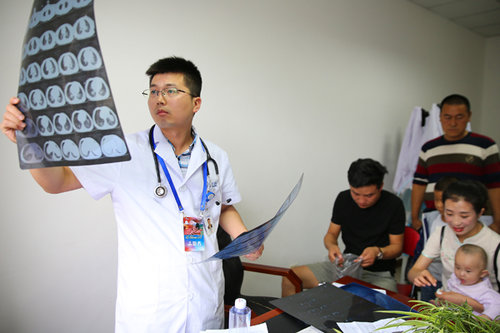 Volunteer cardiologist Chen Guocai from Chongqing tries to judge a patient's condition. [China Daily/Cao Zhengping]
(Source: China Daily)