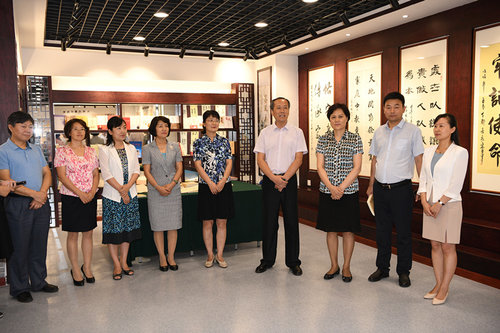 Officials from local government departments attend the opening ceremony. [shx.wenming.cn]
Officials in northwest China's Shaanxi opened a public provincial-level exhibition hall to celebrate family traditions in the city of Xi'an at a special ceremony on July 19.
The effort was jointly launched by Shaanxi Women's Federation (SWF) and Shaanxi Commission for Guiding Cultural and Ethical Progress.
The latest venue aims to become a center for the display of family traditions and rules, the presentation of lectures on family traditions, the cultivation and experience of family traditions for the public, and for organizing relevant training for the entire province.
Under the guidance of the All-China Women's Federation and the leadership of Shaanxi Provincial Committee of the Communist Party of China, the SWF has attached great importance to its work on family affairs, and integrated it into the implementation of core socialist values.
The SWF has also recognized the cultivation of family traditions as a key channel to promote cultural and ethical progress, and made full use of women's unique functions in further spreading the popularity of traditional Chinese family-centered virtues and the formation of fine family traditions over the past few years.
The federation has pressed ahead with the selection of families as role models as well as the recommendation of outstanding community units, in a move to translate their work on cultural and ethical progress and the implementation of core socialist values into tangible benefits for local residents.
In addition, since 2017, SWF has annually allocated around 2 million yuan from its budget to support the province-wide construction of exhibition halls on family traditions, which are built on the basis of local culture and history, as well as their unique family tradition resources.
So far, a total of 25 such centers have been selected to receive the financial assistance from SWF.
SWF President Gong Xiaoyan said in an interview that the federation will continually support the building of exhibition halls on family traditions across the region and make full use of them in the promotion of social civilization and harmony in the future.
A view of an exhibition in the center [shx.wenming.cn]
A view of an exhibition in the center [shx.wenming.cn]
(Source: China Women's News/Translated and edited by Women of China)